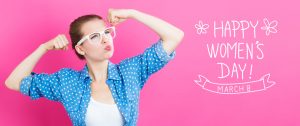 Supporting and celebrating women's rights is a year-round responsibility. But on International Women's Day (IWD), which is on March 8, 2020 this year, it's even more important to take a stand for women's equality.
International Women's Day is a time to reflect on progress made, to call for change and to celebrate acts of courage and determination by ordinary women who have played an extraordinary role in the history of their countries and communities. A day of celebration, dedicated to accelerating the progress of women's social, economic, cultural, and political achievements globally. However, it also marks a call to action for accelerating gender equality throughout workplaces globally.
Some of the more systemic challenges to successfully advancing women and inclusive cultures throughout workplaces are the implicit and unconscious gender biases that have long privileged men but have disadvantaged women and other non-majority groups. The International Women's Day theme for 2020 is #EachforEqual, which reminds everyone that it's on each of us to help create a gender equal world.
According to the World Economic Forum's 2017 Global Gender Gap report, gender parity won't happen for more than 200 years, so the global International Women's Day campaign has its sights set on lowering that number by focusing on calls-to-action year-round.
Women Leaders hire more Women
Could the key to closing the gender gap be though putting more women in charge? While women worldwide are closing the gap in critical areas such as health and education, significant gender inequality persists in the workforce and in politics. The rate of progress for women has been slow over the past decade with the proportion of female leaders increasing by an average of just over 2 per cent across 12 industries studied by the World Economic Forum (WEF).
WEF's data shows that when women are more present and participating in leadership roles, more women are hired right across the board at all levels. This detail holds true even when taking into consideration the disparities in the size of female talent pools across various industry sectors.
If the proportion of women in leadership is not increasing fast enough, yet we know that diversity in leadership positions is a critical factor in closing the economic opportunity gap, then it is clear that women's participation at the most senior levels of leadership and management swiftly need to increase and accelerate.
Here are five Inspiring Quotes we love for IWD 2020

"There is no limit to what we, as women, can accomplish." –Michelle Obama
"We realise the importance of our voice when we are silenced." –Malala Yousafzai
"A woman with a voice is by definition a strong woman. But the search to find that voice can be remarkably difficult." –Melinda Gates
"Women are the largest untapped reservoir of talent in the world." –Hillary Clinton
"The best protection any woman can have is courage." –Elizabeth Cady Stanton
Recognising this special day has become something very important to me and what I stand for, so I am sharing some of my favourite messages from some strong female leads on my blog.
"We must teach our children the importance of IWD as it is a day that women should be highlighted and praised for just how far we have come. I am a firm advocate of women supporting women. Why? We all know the trials and tribulations that women go through on a daily basis. So most importantly, why would you not support where you can?"
Follow Michelle on Instagram @michellegriffithrobinson
"IWD is a wonderful annual opportunity to shout about what we as women do to lift each other higher & to bring men into the conversation too, as it is important that we are celebrating but also making changes & not being an echo chamber!"
Follow Molly on Instagram – @selfishmother
So, let's build a gender equal world. Equality is not a women's issue, it's a business issue.
Find out more at https://www.internationalwomensday.com/Theme