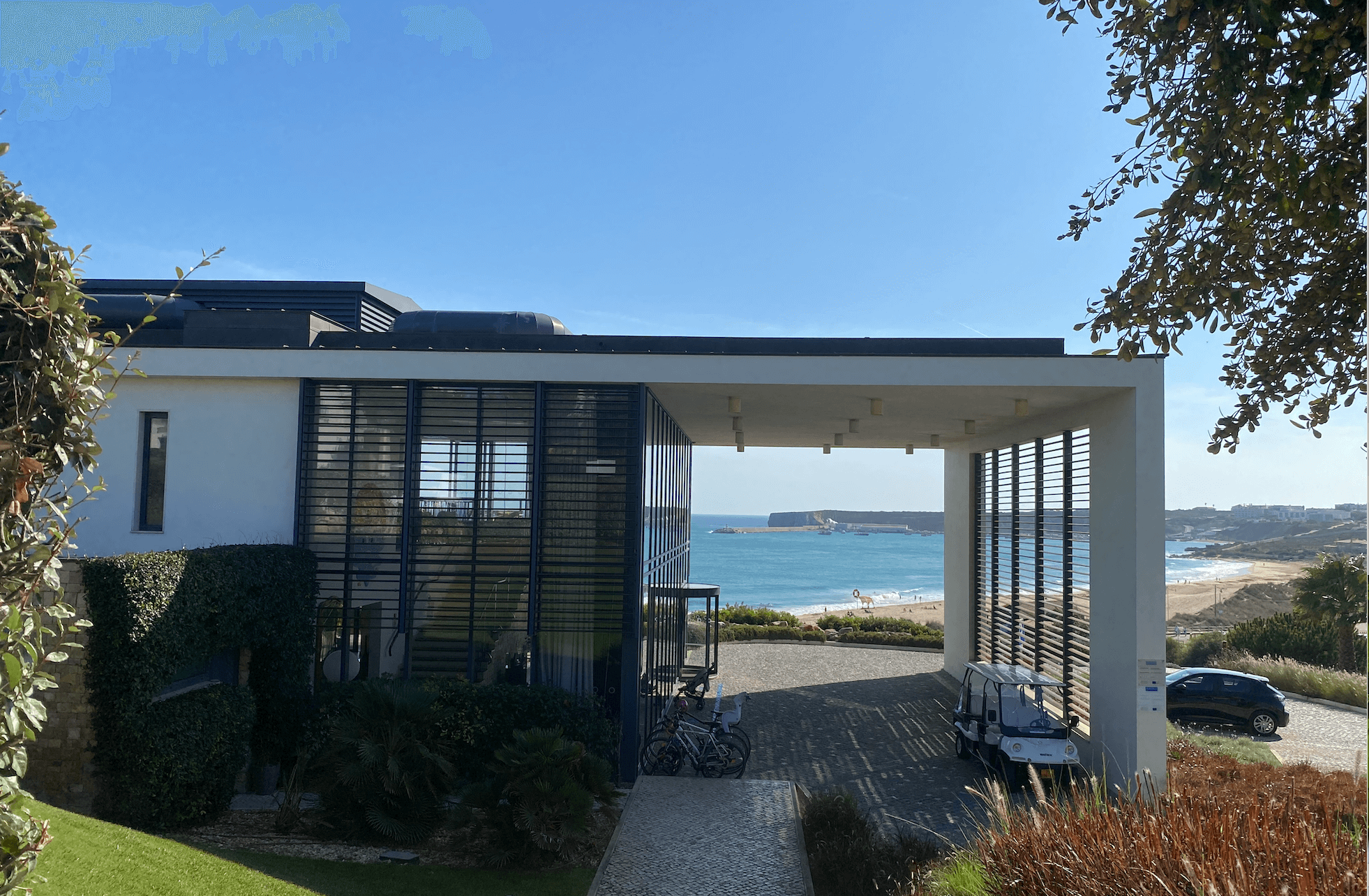 When Martinhal got in touch asked if we would like to come and review their Sagres Hotel and Resort in Portugal, naturally we jumped at the chance! Having already reviewed both their Cascais family resort and their Chiado apartments in Lisbon, we were keen to come see their luxury family set up in Sagres, a small surfing town around 1.5 hours' drive from Faro airport. This was set to be the ideal getaway for some warmer October weather. Warmer than I was expecting! Absolutely glorious sunshine every day of our trip.
Before I tell you more about the Martinhal Hotel and Resort, I will just add that this was going to be our first flight as a family of five. I was a little nervous about flying again with a toddler and the dreaded airport queues. However, on arrival at Faro airport, the customer service for families was fantastic. This put my mind at ease straight away. Portugal has a great attitude towards travelling families and they genuinely couldn't have been more helpful. There's a separate line for families with young children through both passport control and security, helping to avoid the long queues and even the lanes are wider to accommodate buggies and all the extra baggage. After an easy exit from the airport, we were swiftly met by our driver, and just over an hour later, we arrived at the stunning Martinhal resort in Sagres.
Martinhal lies near the historic town of Sagres and Europe's most south-westerly point: Cape St Vincent, otherwise called "Fim do mundo" (the end of the world). When it comes to sustainability, the hotel relies on solar power, and was built using natural materials, organic local produce features in the restaurant and the hotel are involved in conservation projects.
The Martinhal Experience
The Martinhal team are all genuinely friendly and happy to help you in any way they can. They were all brilliant with the children, and they work hard to ensure you have the best holiday experience possible. Here, all the team go the extra mile to help you have a rest and ensure your children have a great time too! Alot of thought and consideration has come into play here. From staff setting up colouring stations at mealtimes to allow parents to finish their food peacefully. to the multitude of activities across kids' clubs for different age ranges. It's truly commendable and they seem to think of everything!
From the various creche facilities depending on the age of your child, through to the blue room aimed at tweens, with a pool table, air hockey table and a Playstation 4. Add a dollop of sunken trampolines, multiple play areas, bungee jumping, bikes to rent, tennis, mini golf and daily family football; the kids are bound to stay happy and occupied! Need I say more? There is also mother-daughter treatments in the spa as well as surf lessons, paddle boarding, dolphin spotting and horse-riding nearby. I also joined one of the adult Pilates classes which I thoroughly enjoyed (and ached for a day or so after!).
The resort has four swimming pools, sports facilities aplenty, a village square (which we went to every day!), gym and beautiful spa. Despite us travelling late October, we enjoyed 22 to 24 degrees heat every day. We felt so lucky! Portugal in October may just become our favourite time of the year!
Food and Drink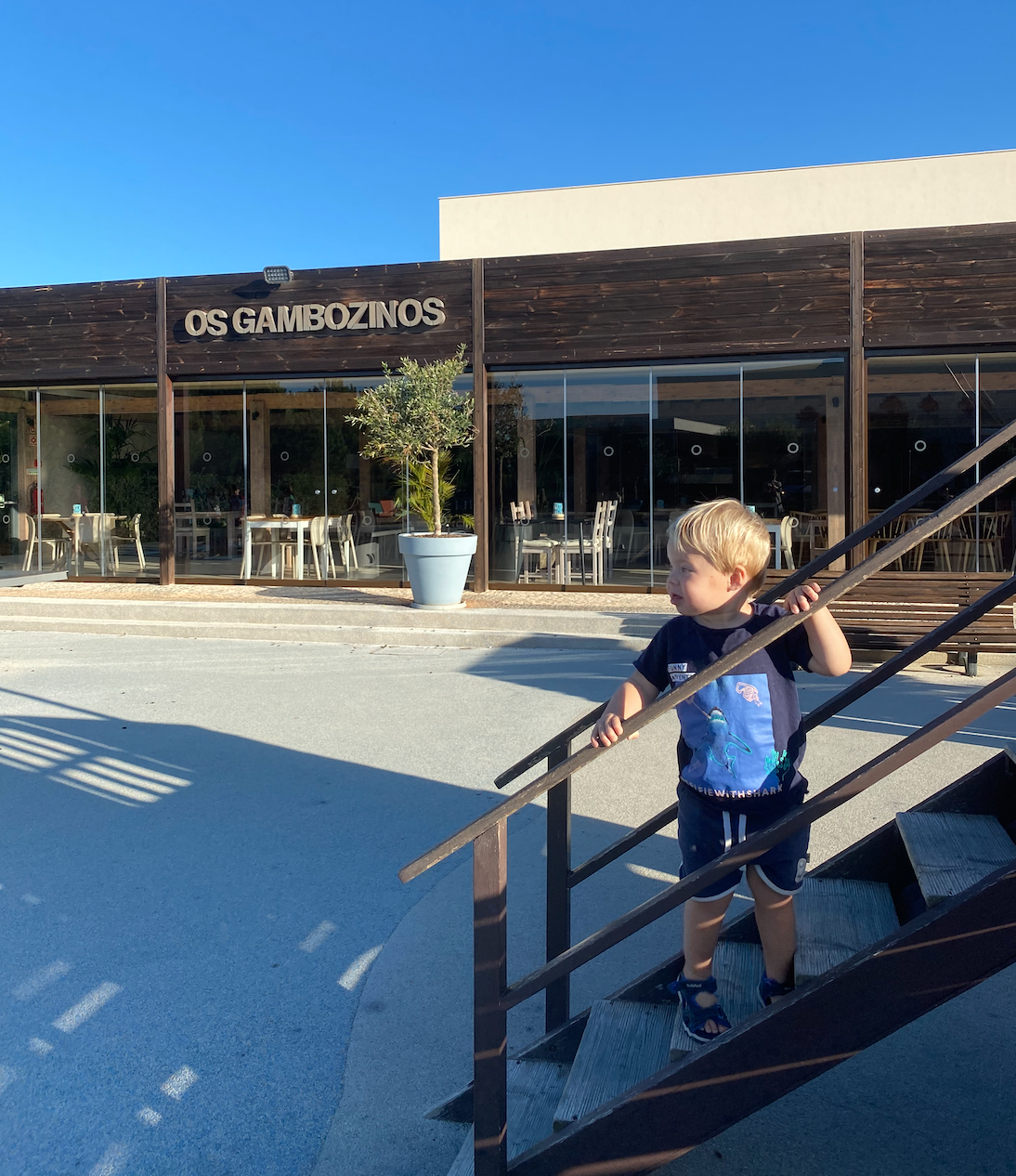 Let's start with the wine! Martinhal provide a wonderfully comprehensive Portuguese wine list and it felt as if, every wine we chose was perfect for our palette! I became one of those guests that took photos of the bottles so I could remember the gorgeous wine we had when we were away! Martinhal offers three main restaurants. All of which have a modern, contemporary feel with highchairs and booster seats always available, depending on the age of your children.
Firstly, O Terraço has lovely views out to sea, and we chose to dine here for breakfast almost every day as it was the closet to our hotel rooms and has lovely views from the terrace if you fancy sitting outside. Only a short walk away from reception is As Dunas, which has equally lovely sea views and has an amazing array of fresh fish on the menu, so you can choose your catch of the day.  As Dunas serves a variety of foods including regional specialities every day. Once again, their children's menu ensures everyone can find something for lunch they love!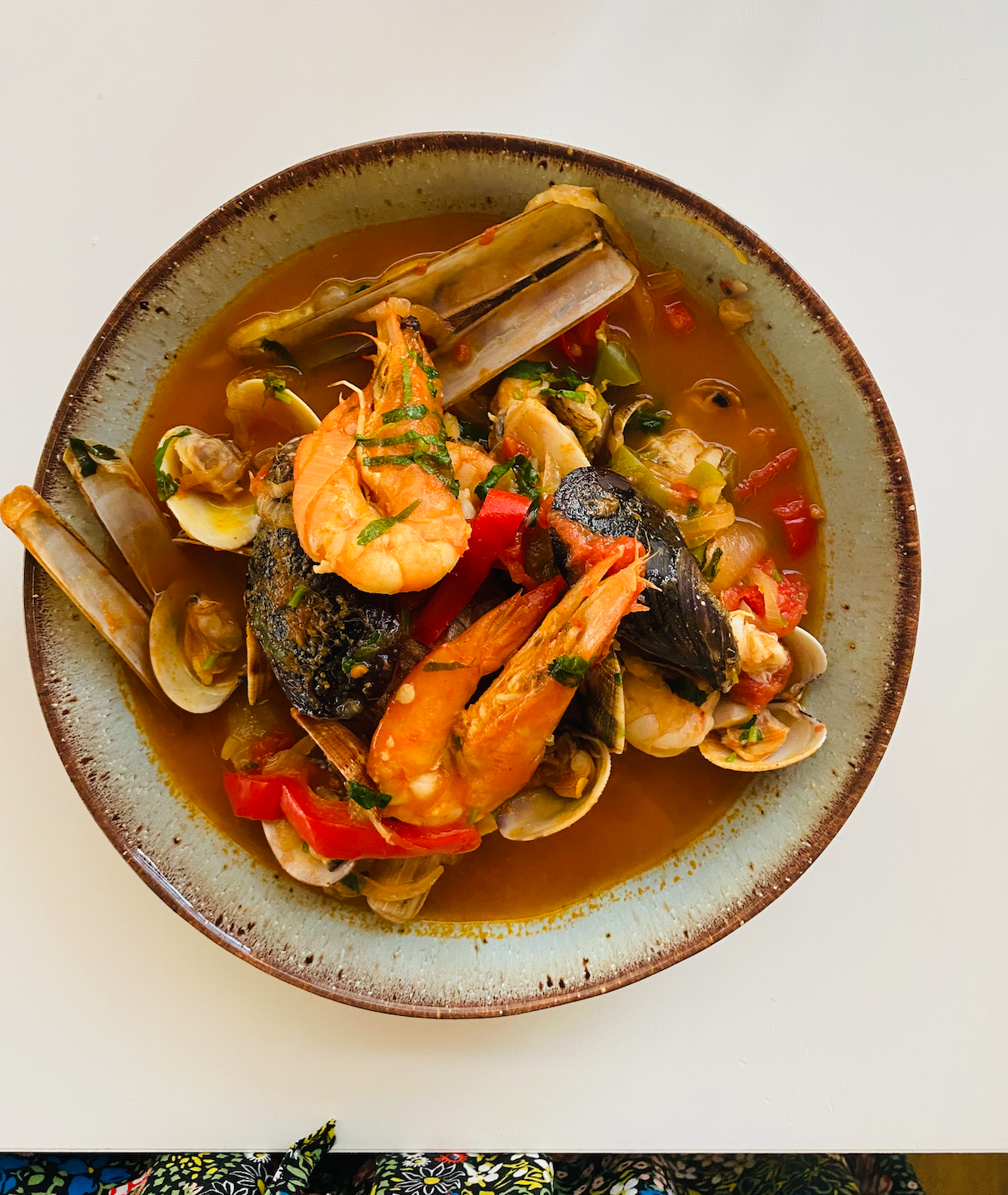 Furthermore, there is a popular Italian restaurant, Os Gambozinos in the village square, serving with pasta and pizza favourites, great for family favourites. The M Bar – coffee shop by day, surf bar by night – is a popular place, complete with a super fun turquoise VW Camper van. During the day, families can enjoy smoothies, crepes, ice cream or light snacks from the M Bar. This was a big hit with a familiar question, "one scoop or two mummy!" In the evening, they serve pizza, pasta, cheese and salami boards and much more!
Each restaurant offers fantastic food – but for me, it had to be the As Dunas restaurant as we had some wonderful fish dishes there. The chilled, spacious dining space (yes, even though kids can dine there) serves delicious fresh fish, wine along with a wonderful, attentive service. Even with our two-year-old, we felt completely relaxed eating and allowing our older children to play outside (who we could watch out of the window), once they had finished their meals.
Back on the village square there's a juice bar, while Club 98 within the hotel's tennis club also serves snacks and drinks. The hotel has put some Covid-19 restrictions in place. During this time, the restaurants ask that you book breakfast, lunch, and dinner in advance on their mobile app but if you forget, they will do their best to accommodate your needs.
This is excluding the M bar in the village square as you can order lunch and dinner there anytime. Furthermore, if you need a night in, their takeaway service is brilliant. When, one evening our son was very tired, my husband stayed in the hotel room and I ordered them a take-out to accompany their movie, which they both loved!
Rooms and Villas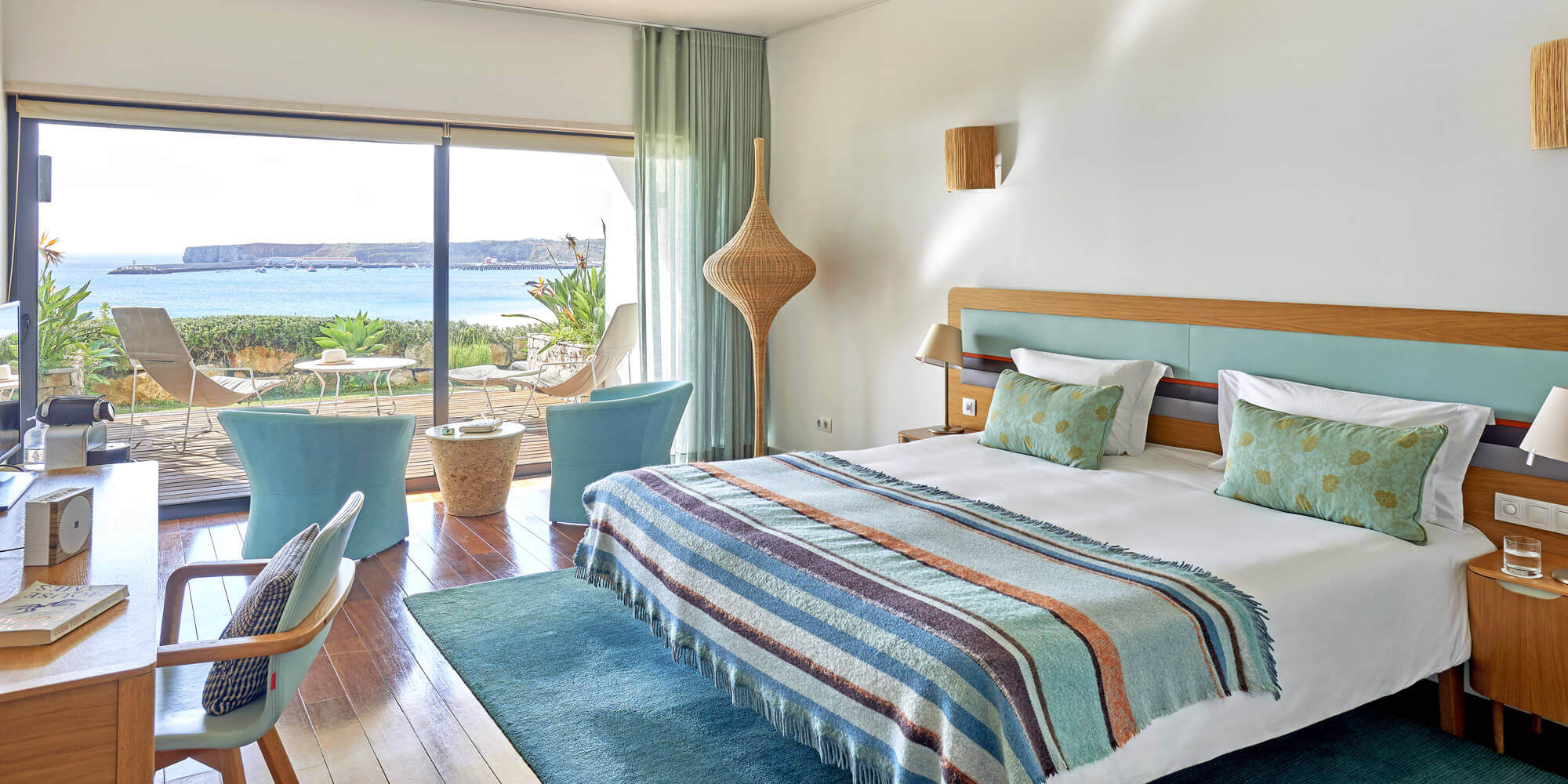 The hotel warmly welcomes children of all ages, and all extra beds and cots are free. We had two beach rooms with interconnecting rooms. It was the perfect set up for us as a family of five. The hotel colour scheme is a dreamy, sea-friendly palette of turquoises and baby blues – from the carpets to the stripy woollen throws and cushions on the beds. There are lots of funky touches, including huge Mongolian beanbags on the floor, oversized cream wicker lamps and giant round wooden hooks on the walls. We had the most incredible sea views in rooms 125 and 126. The bathrooms are generous with a walk-in shower, bath, Voya toiletries, bathrobes and adult flip-flops! Each room had a minibar/fridge, Wi-Fi, hairdryer, safe box, satellite TV, Nespresso coffee machine and your own sun terrace.
The Finisterra Spa
The Finisterra Spa, with its natural wood decor and sun trap location was just heavenly. With areas for reading, hot tubs and high ceilings, it was a haven for holidaymakers. Tired parents will be rejuvenated in the Finisterra Spa. One of our favourite treatments involves being wrapped head-to-toe in giant strips of seaweed: the Voya Leaf Body Wrap treatment eliminates toxins and is a proven cellulite-buster. Once again in line with Covid-19 policy, the spa requests that bookings are made in advance but well worth a visit.
Around the Hotel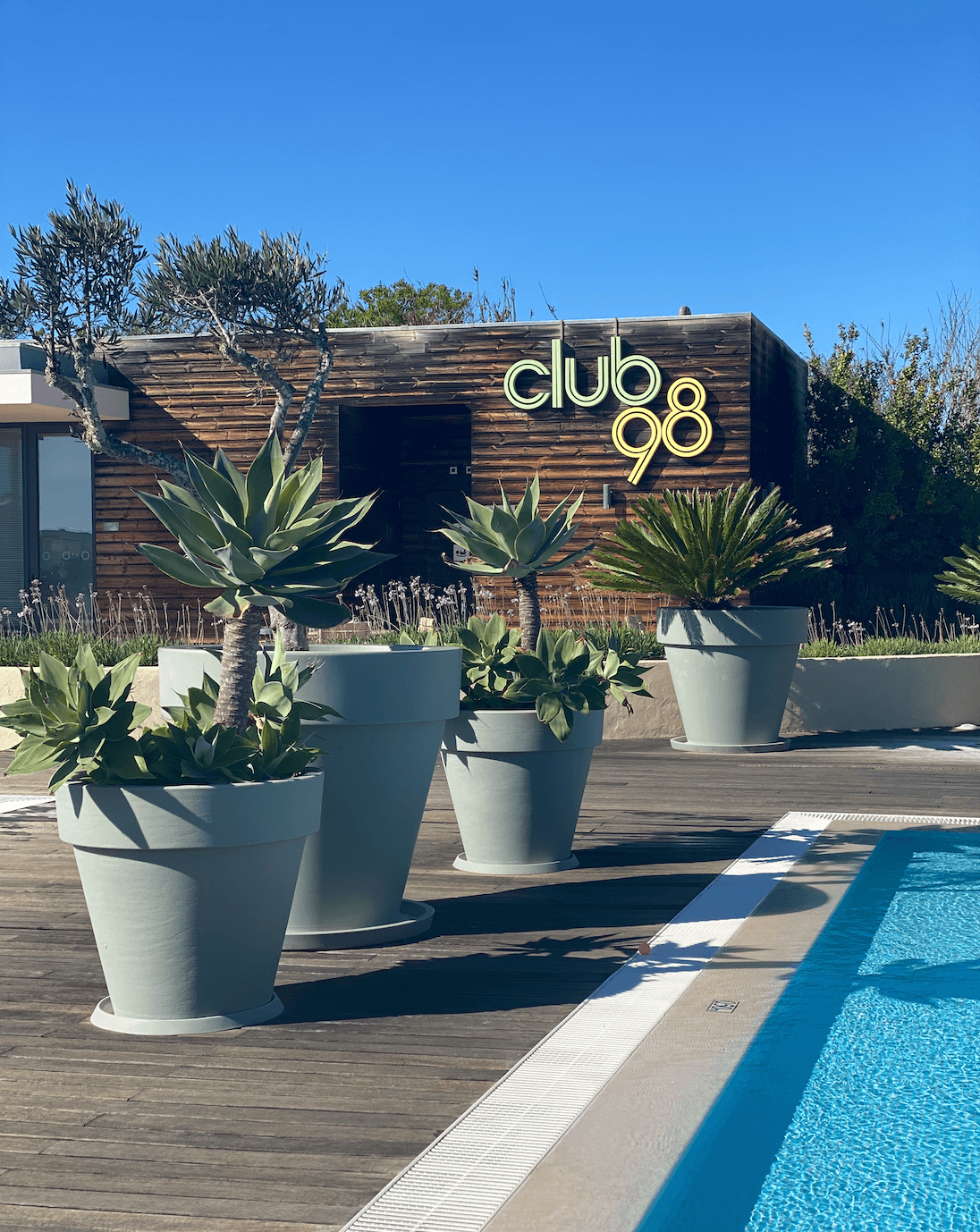 In Martinhal Sagres resort there are tennis courts, a multi-purpose sports pitch, gym, sauna, and steam room, four swimming pools, table tennis and pool table. The Blue Room proves to be a brilliant space for tweens and teenagers equipped with video games and chill out spaces. On the topic of activities, there are a range on offer, including a variety of watersports with windsurfing, paddling, kite surfing and kayaking facilities. Back on dry land, why not explore the area by hiring some bikes and Micro Scooters on offer to help little ones get around easier! There is also a range of new facilities for 2021 to make use of including, an outdoor fitness track, petanque, mini golf, kids bungee jumping in the village square and baby concierge.
When it comes to caring for little ones, the Martinhal baby concierge service offers you the opportunity to pre-book baby equipment – from small items like door protectors, potties, bottle sterilisers & warmers, to bigger items like safety gates, baby cots, baby baths and even pushchairs. Plus, don't worry if you left something at home. The village shop, Mercado, offers a wide variety of lotions, nappies, baby food, swim nappies, dummies, gluten free snacks and other items. Most importantly, the shop also has coffee to takeaway which was ideal for me to grab myself a latte after creche drop off. My son had fun in the baby and toddler creche between 9:30am to 12:30pm, which worked really well for us.
Our older two children (aged 11 and 9) didn't join any clubs but made so many friends, they spent most of their time in the pool or in the Blue Room playing games.
Away from the hotel, Sagres' fishing port is popular for its seductive beaches; there are also the remains of a 17th-century fort and a lighthouse to admire. We also took at short drive into Sagres town to buy the kids some t-shirts and hoodies from the Sagres Surf Shop, which they loved! A great reminder of the holiday after returned to colder UK!
Thank you Martinhal for providing the perfect luxury retreat for families and giving us something for everyone. Martinhal enables guests to enjoy the best of both worlds. A location which feels relaxed, safe and private but equally, you can enjoy the hustle and bustle of a family hotel. We met other like-minded families and immediately our children built some lovely, organic friendships with others which was a joy to watch! We really used the time to unwind and quite honestly, on the day we left, we were really sad to leave. Martinhal, I don't think it will be long until we return. See you for New Year celebrations perhaps?
Click here to find out more on all the Martinhal Family Hotels and Resorts in Portugal and start planning your 2022 family adventure.
Note: This blog post is brought to you in partnership with Martinhal. We received complimentary stay as part of a press trip to give an impartial review of our stay. All opinions are honest and my own.