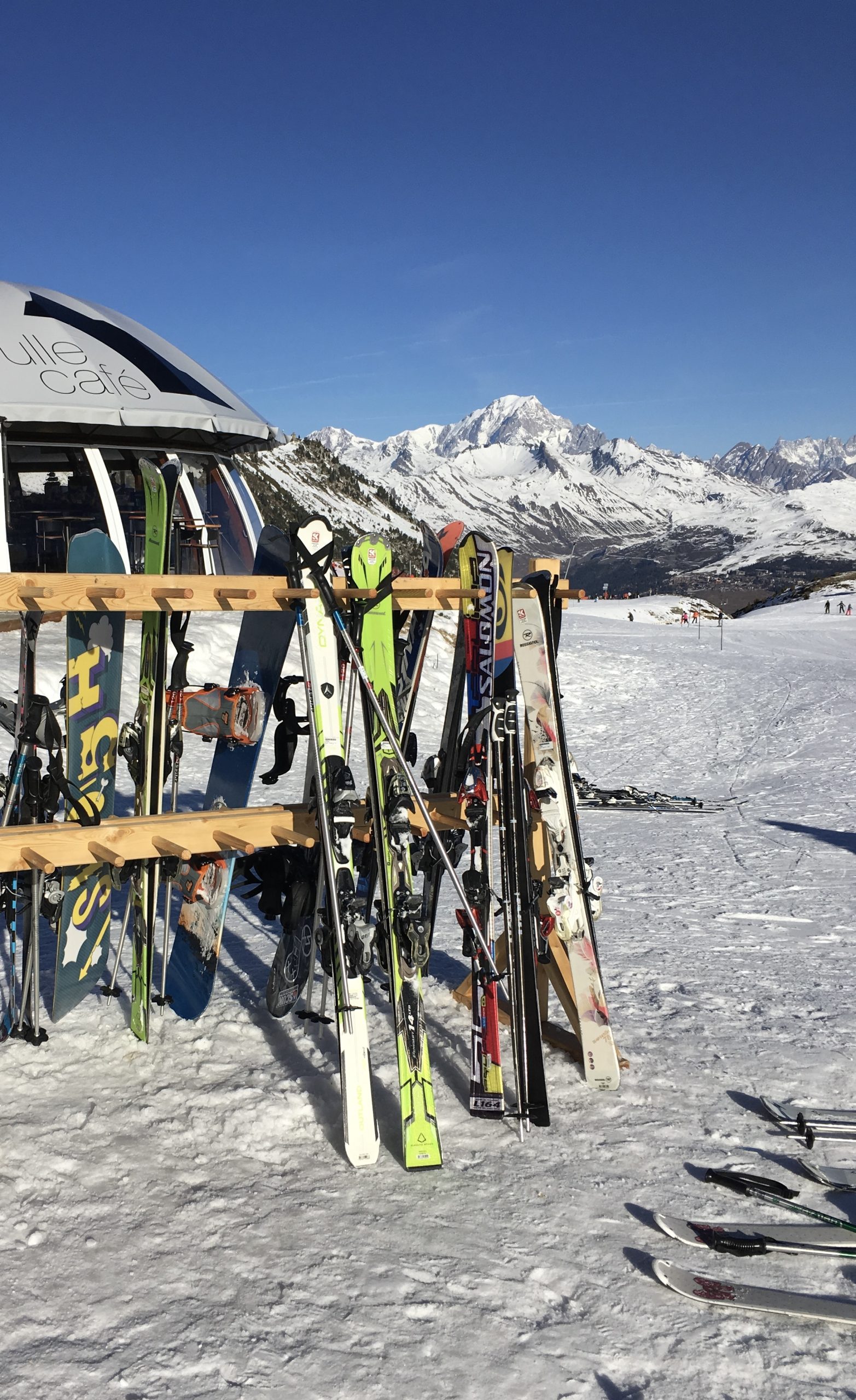 Thinking of going skiing this winter? I've written about our amazing Christmas ski trip with friends. We count ourselves as being one of the lucky, (slightly smug) few who managed to get some snow this Christmas. My husband, who reads 'Where to Ski and Snowboard' pretty much every night always does plenty of research, which is great – as it means I don't have to. He knew that the only way to guarantee snow in this unusually mild winter we are experiencing across Europe, would be to 'go high'. And that's exactly what we did.
We travelled to Les Arcs 2000 with family ski holidays specialist, Esprit Ski for our break. We would have our Christmas day here, so it was important that we all really enjoyed our Christmas adventure and that it didn't fall flat or that we went somewhere which had a lack of snow. Going lower than 2000m could have meant we would have been skiing on grass!
The great thing about skiing is that you can kick back and enjoy some 'guilt-free' time with and without your children. The key is not to feel guilty about having time away from the children to enjoy wine or beers on the slopes! When I told someone at work about my ski trip they said 'Oh, how lovely. A family ski holiday. It will be nice for you to spend some quality time with the children over Christmas. Do you ski with the children?" My answer was a bit embarrassing to say "Errrrr…the kids are at ski lessons and snow club". "Oh", she replied. "So you are not with the kids". "Well sort of. It's a holiday for all us". I swiftly made an excuse "Anyone want a coffee?" But; I will be honest with you; I'm not going to feel guilty about putting them in snow club as they loved it and I'll explain why.
We were staying at Chalet Aravis is on the sixth floor of the Altitude residence, in the heart of Les Arcs 2000. Esprit Ski have a number of chalet apartments here which are perfect for families or extended family groups. Our chalet apartment sleeps eight. Extra facilities at this chalet include access to the indoor swimming-pool, shared sauna, ski lockers, a small après-ski bar and underground parking, plus there are lifts to every floor.
On arrival we finally reached our four bedroom chalet apartment and we were warmly welcomed by our chalet host Izzy. Every day, she cooked and cleaned for us – including cooking her first Christmas dinner for us. We were then introduced to our Esprit childcare team. Alex, Lucy and Josh in childcare. They instantly made a good rapport with the children. Visiting the evening before ski school was such a good idea as it meant the children were already at ease with these new faces. Clever Esprit Ski. Happy children = happy parents.
We have travelled with Esprit Ski before and although they are mostly a team of young and energetic individuals, it is, without question, the perfect match for the children. Oh…to be 21 again! I actually thought I was still quite young and cool until I realised Izzy was born in 1996, which made me officially feel like a dinosaur!
When you have young children and you are going on holiday, it's really important to try and ensure it is a 'break' for everyone. My husband and I both work full time with long hours. But don't get me wrong, I really cherish the times I have with our children, but it doesn't make me feel any less tired or craving the odd moment on my own (other than a bathroom visit).
If you are travelling with little ones in tow, I would recommend choosing a company who are set up to support you. Esprit Ski were fantastic. The kids went off to ski lessons or snow club holding someone's hand every morning and there was always a childcare rep close by to make my children feel happy and secure. I never worried that my children wouldn't be safe or having fun.
As you might expect, there were a few occasions when my daughter had a little wobble and didn't want to go to ski lessons. She just wanted to just be with me and those moments are really hard for a parent. Esprit Ski were really good at gently encouraging her to go to her lesson, without being pushy. Eventually, we held onto one of the hands of the Esprit team and walked to her lesson. Phew!
To check she was OK, I would often swing by where she was having here lesson and long and behold…she was happy and excitedly waved at us. Sometimes we caught her when she was queuing for the chairlift, happy to see us, but equally – happy to disappear off with her new friends. This made us feel really at ease.
Our three year old son gave skiing a go for the first time and he absolutely loved it. His ESF instructor, Nico, commented that my son had a natural ski ability which will stand him in good stead. We were so proud of the progress he made. He even skied backwards on his last day. What a pro!
What a great opportunity to learn to ski aged three? I never skied until I was 28, but my husband was very fortunate to learn to ski aged 4. Just like our son, he now reaps the benefits and thoroughly enjoys his time in the mountains. As parents who ski, I know we have to be realistic that not all children will love skiing just because we do. There is a chance that one of the kids may turn round and say, I don't like it or I don't want to do it. And you know what, that's OK, as long as I am convinced they have given it a try.
If the children have been to ski lessons throughout the week, I would recommend taking them out of ski or snow club earlier in the afternoon and taking them up on the chairlift. The little ones can ski between your legs and the bigger children can ski next to you if they are confident to do so. I will admit, even as an intermediate skier, my heart is still in my mouth when I do this, but it really is so much fun for the kids. Yes, walking around in ski boots is always going to be uncomfortable and there's always one buckle on the boots which is just too tight or too loose!
Carrying all your ski gear is a real effort at times, but as with anything – with a little effort – you do get the reward. There is nothing nicer than coming back to your chalet after a hard ski day and taking off your boots and enjoying a slice of cake. And for the kids? It simply wouldn't be a ski trip without a daily hot chocolate or some hot milk, that's for sure!
Food and Drink
Well, surely it's impossible to go to France without sampling some red wine and fine cheese, so we did plenty of that. I have convinced myself that the cheese is zero calorie as we are pretty much doing exercise every day now. Well, that's the approach my mind tells me, even though the scales back at home may tell me different.
When it came to food, Le Savoy in Les Arcs 2000 was great and very family friendly. For something a little more special, we would recommend Le Brasserie 1950 where we enjoyed one 'grown up' evening out using the Esprit Ski babysitting service. We also had some fun pit stops on the slopes at Bulle Café which is great for a quick hot chocolate and a power nap in one of their deck chairs!
As I reflect on our family ski trip, it makes me realise that skiing is not an easy sport to master and there will always be someone who can ski better and quicker than you. It's always advisable to have some lessons and it is a sport you will always want to improve your technique.
After skiing now aa number of times and I had two intensive full week lessons when I started, I am finally reaping the benefit. I don't get puffed out, I can tackle most slopes without any fear and I only do a black run if it is in a good condition. If I can, I want to push myself out of my comfort zone to try something different to challenge myself in a positive way. Les Arcs 2000 had a really good range of blue and red runs although we didn't see many black runs. A lot of them were closed due to a lack of snow.
What did we Learn?
Well, firstly, we know that skiing isn't a cheap holiday but it is a holiday that, when everyone is a certain age, you can all ski together. There are not many sports I can think of where you can do something altogether at the same time – all day. There's no taking turns watching the kids in the pool or playing a little bit of tennis until they get bored. You couldn't do that all day.
Secondly, it teaches the children some really vital life skills. Independence and perseverance. The mindset to try and try again. Our daughter is amazing but if she can't do something right first time, she sometimes won't try again. The ethos I try to instil in her it to keep trying and if you can't do it perfectly – that's OK. I want her to understand that being perfect at something isn't necessarily a good thing. These are all important life skills she is learning right now and I would imagine learning to ski is a pretty good challenge to overcome. I would just like to add that on the last day of our trip, she was confidently skiing down unaided and I am ashamed to say, even quicker than me. She was in control and knows how to stop. She was brimming with self-confidence and that is what this article is about.
Children can learn to listen carefully and follow instructions. Those that choose to follow those instructions, will learn great things and there's an award achievement badge and presentation waiting for them at the end of the week. I can't tell you how proud my daughter is that she now has her third ski badge and we couldn't wait to show it to her teacher back at school. So, maybe it is about little achievements and creating memories I hope they will always cherish.
Thanks to all the team at Esprit Ski, Les Arcs 2000. Until soon…
This is not a sponsored post but I hope it is useful reading for any families looking to go on a family ski trip now or in the future. For more information, visit www.espritski.com