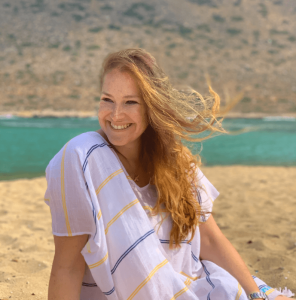 It might seem odd writing about beach and swimwear in winter but I wanted to introduce you to a brilliant company I have been working with this year called Coco Bay. As more brands think beyond strictly swimwear and are designing for that "resort" lifestyle—think easy, breezy pieces that don't require overthinking. The cover-up has evolved from something you wear in this one very specific context to an 'It Piece' for summer 2020.
Coco Bay have a wide range of breathable dresses, kaftans and beach cover ups so you look and feel great on the beach and by the pool. Perfect for hot summer days of running errands (or running after kids!) as well as popping to the bar for an Aperol Spritz! So, no matter where you find yourself basking in the sun next year, in this blog, I highlight some of my top five favourite items for my spring/summer 2020 getaways!
1. First up, this stunning kaftan from Seafolly's Sunflower collection is a Guilty Mother favourite! Made from a gorgeous cotton mix of 67% cotton and 33 % acrylic so it falls beautifully and feels amazing on. The kaftan comes in white with pretty alternating stripes of yellow and blue. There is a tassel trim and the beautiful jacquard motif around the hem is a stylish addition. This kaftan is so comfortable and is quick drying so would make the perfect addition to any holiday wardrobe. It was my favourite holiday piece from a trip to Chania in Greece back in late October.
2. This easy to wear, Blueprint Crinkle Twill Beach Shirt also from Seafolly is made from 100% crinkle cotton. This beach shirt comes with long sleeves and a button fastening, it can be worn with sleeves rolled down to cover up from the sun or alternatively worn up giving a 3/4 sleeve. This was perfect for coffee breaks and late afternoon reading on the beach. A sophisticated The perfect summer all-rounder you can throw over your bikini in the day or dress up with some jewellery for a night out.
3. Over the last five or so years, I have developed a love for a straw hat on the beach. I either take it on the flight with me so it doesn't get crumpled or I pack it with underwear in my suitcase to help keep it's shape. I love this classic hat in the fedora style.
This white Tobago Hat from Pia Rossini features a black trim and is made from 75% paper straw, 25% polyester. A style that never goes out of fashion and will always look stylish both on and off the beach.
4. I have long been a fan of Seafolly swimsuits as they are so comfortable to wear. I can't resist a bandeau swimsuit as like to avoid strap marks! I adore this Seafolly Castaway Stripe Bandeau Maillot Swimsuit in Indigo and White Stripes.
A flattering shape with a triple triangle trim on waist ties, a hidden underwire and moulded cups for extra support. The maillot has additional gripper tape to help keep everything in place, a clip back and optional straps in the luxurious fabric that the Seafolly range is known for.
5. And finally…it wouldn't be a family holiday without a straw bag!
This natural straw tassel shoulder tote bag from accessories brand Sun N Sand has caught my eye! Featuring natural woven straw and bright blue alternate navy blue tassel details with multicoloured aztec pattern trim around edge. This basket opens up to a large interior with lots of space for your beach towel lined in blue, it also has 9″ straw straps to easily go over your shoulder.
This bag measures approximately 21″ in width and 11.5″ in height, 9″ strap drop.
Finally, we know and understand swimwear can be tricky to find the perfect fit, so if you need help with finding your perfect fit swimwear, Coco Bay have added fitting advice on all of their products. Coco Bay personally try out all the products they sell, so there is no hard work when you shop at Coco Bay. If you are in any doubt, please don't hesitate to call or email their friendly team on 020 7526 3070 or en[email protected] so they can help you find your perfect fit.
For transparency, the kaftans highlighted in my favourites (items one and two) were kindly gifted to me by Coco Bay in exchange for an honest and impartial review.
Visit the Coco Bay website and take a look at the great offers on their sale rail here!