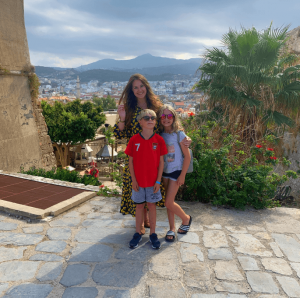 Many of us crave some final sunshine in October, but where to go? For the last two years in a row we have escaped in search of sunshine, sea and pool. This year, we found solace in the beautiful island of Crete. With temperatures averaging 23°C and plenty of reasonable flights taking off from the UK, Crete is a perfect destination for a family holiday without having to lug the children on a long haul flight further afield. With a flight time to Chania airport of three hours and thirty minutes, we felt it was just about the right amount of time for our children to be on a flight before they shout 'are we there yet?"
So, when an invite came through inviting us to come and review Kalyves Beach Resort, which is the sister hotel to the Kiani Beach Resort we stayed the April before, we jumped at the opportunity. Both hotels are all inclusive family resorts in Crete. Kalyves Beach Hotel, a four star hotel, which smaller than the recently extended Kiani Beach Resort offering a quieter space for families and couples which something a little different. Kalyves Beach Hotel has room for up to 250 guests.
As part of our stay, we were provided with interconnecting rooms which was ideal, giving more flexibility and space for our family of four (almost five as six months pregnant with baby number three!). Nestled in the heart of Kalyves village, you can choose whether you would like bed and breakfast, half board or their VIP all include package.
Food wise, there is always a wide range of options, with a small, dedicated children's area. Drinks were set up along one side with self service drinks, water and juices. Guests can help themselves to wine and beer and as part of the VIP package, we could also have a bottle of wine each night if we chose to.
Facilities at this hotel includes three swimming pools (two outdoor and one small indoor), table tennis, pool table, gym, sauna and two children's play area. Kalyves Beach Hotel is located on a Blue Flag Beach and it really is the most picturesque beach which is the perfect size to swim, play and entertain the children. Running past the hotel is a fresh water river where you can spot trout, ducks and terrapins. Most evenings, there is normally some form of entertainment being offered to keep both the children and adults happy. This included Greek Night, which showed the children how to learn to dance the Greek way which the children thoroughly enjoyed!
Within just a few hours of arriving, the children wanted to check out the games room. Shortly after, two other children of similar ages came and joined in and within moments, they had became friends. It is so lovely when friendships like these are formed in the most natural way and for the rest of the six night stay, these four children became inseparable was delightful to watch.
The last time we came to Chania, we spent most of the week relaxing by the pools and seafront, so we didn't do as much exploring as we wanted to. So, this time, we wanted to ensure we had a few days to see more of this beautiful, unspoilt Island.
Things to do near Kalyves, Crete
We had two days exploring some of the regions of Crete, thanks to gifted Kalives Travel – Rent a Car. Here are some of the areas of Chania we explored with the car:-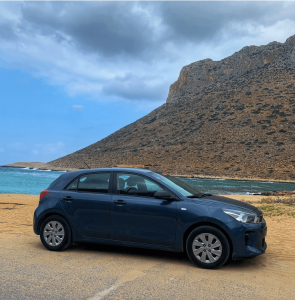 Springs of Argyroupolis
With natural water springs and waterfalls running throughout, we headed to see the Springs of Argyroupolis. There are plenty of steps so be warned if you have tired children in tow or have access requirements. Numerous small waterfalls dominate the village, shaded by ancient plane trees. A short drive away from Argyroupolis the village is famous for the monastery of Panagia Antifonitria which is one of the oldest monasteries in Crete, founded in the 11th century.
Lake Kournas
We headed for coffee and a walk at Lake Kournas, which is the only natural freshwater lake of Crete, Kournas Lake is located on the northern edge of the White Mountains. The lake creates an impressive landscape, rare for the island, which changes depending on the time of year. The water is 22m at its deepest part, and is a stunning turquoise colour in the sunshine. If you want to, you can hire a pedalo and go around the lake towards cloud topped mountains.
Lunch in Rethymno
After coffee at the lake, we drove to the town of Rethymno, which is rich with history and traditional charm. We enjoyed lunch at Platia on the Venetian harbour which we would highly recommend! We had sardines which were delicous and the children enjoyed homemade chicken nuggets and potato wedges.
To walk off the lunch, we went up the old stone steps to the fortress, which dominates the city. It was built by the Venetians in the 16th century, and was captured by the Ottomans in 1646. By the early 20th century, many houses were built within the citadel. These were demolished after World War II, leaving only a few historic buildings within the Fortezza. Today, the citadel is in good condition and is open to the public.
Beach Day at Stravos
The next day we were keen to get up and about to explore the Island some more. This time we headed to Stravos past Souda Bay as recommended by Kalyves Travel – Rent a Car. An amazing recommendation! The scenery is beautiful and it is interesting to note that Zorba the Greek was filmed here!
This was, without question, our favourite day of our trip. Stavros is a small, secluded bay which marvellous white sand and shallow turquoise water. The contrast of the mountain with the quiet beach (it was empty!) made it the perfect place to relax. The children spent hours, and I mean hours, moving around rocks to make rock pools. They were so blissfully happy. After coffee in Mamas Place on arrival, later that afternoon we had lunch at Almyriki. The best fish lunch we enjoyed throughout our holiday.
Fun Days at Kiani Beach Resort
After saying goodbye to our hire car, we spent the last few days enjoying the new facilities up at the Kiani Beach Resort, which last year went a substantial extension which looks great. Kiani Beach Resort now has two outdoor swimming pools, two children's pools/splash areas, and a heated indoor pool. That's five in total!
The largest pool in the new extended area has two Olympic Lanes running down one side, which is part of Kiani's ethos to focus on family health and fitness. Something this is important to us as a family. It goes to show how the resort is trying to cater for as many people as possible, whilst encouraging a healthy lifestyle.
On the other side there is a shallow kids pool and a further kidney shaped pool. All are surrounded by good quality sun loungers that have mats on them. They all look brand new! Plus there are so many umbrellas, probably one every two beds.
This really impressed me as with other holidays of this type we have had to make sure we are down early to get one. Here thats really not an issue. Plus you can hire pool towels which are again good quality and readily available from the bar.
The outdoor pools were a fraction on the chilly side as it was late October but that didn't seem to worry the kids who jumped straight in. They also loved the indoor pool, which was manned by a trained lifeguard during the day. In turn, my husband and I found we could actually relax and read the books that we had brought with us. Winning at parenting!
The children also took advantage of some of the kids club activities which were going on including football and t-shirt painting, which they really enjoyed.
Kiani Beach Resort – Health, Fitness and Spa
Health and fitness is warmly encouraged here. My husband enjoyed many morning runs across the Kalyves seafront. Later in the week, he booked himself in for a sixty minute deep tissue massage which he said was very good. Just what he needed for those tight hamstrings as he keeps telling me! All guests were being offered a free 15 minute treatment when we visited.
Summary of our Family Travel
In the blink of an eye, it was time to leave Chania and head back to a chilly London Gatwick. This is our second time travelling with Seacrete Hotels and once again, we have had a very enjoyable, relaxing stay. If you are looking for an all inclusive family resort in Crete we can highly recommend Seacrete Hotels for its family-friendly facilities, comfortable accommodation, entertainment, and very friendly team.
I can barely remember the last time I had a holiday where I actually sat and read a book from cover to cover, but I achieved this here. The children were always happy, safe and comfortable which meant as a family, we could all be more relaxed, enjoying our time here. Making memories and meeting new friends.
Special Offers for March and April 2020
Take a look at the Seacrete Hotels website for the latest special offers, including one which is for bookings in March and April 2020.
Disclosure: we were invited to all inclusive stay at Kalyves Beach Hotel in exchange for coverage on my Guilty Mother social media and blog. As always, all opinions are honest and my own. We paid for our own flights to Crete but as this was an all include stay, our food, drinks, activities and two day car hire was included as part of this trip.
We hope you enjoyed our adventures. To find out more about Kaylves Beach Hotel or Kiani Beach Resort – click here.
Want to know more about Chania? Click here to read my previous blog on why this is a magical place to visit with children.