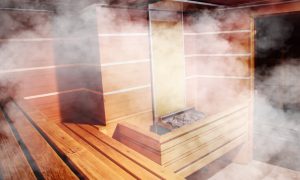 On a recent trip to the stunning Austrian alps, we soaked in the mountain air and kicked back in a beautiful, traditional Austrian hotel. The people are so friendly and Hans couldn't have done any more to make us feel welcome.
My husband suggested that we make the most of the facilities – and why not. There was an indoor and outdoor pool, sauna, solarium and steam room. I mean, what more would you want after a hard day skiing?
We wandered down to the wellness area in our hotel robe and soft, white slippers. How lovely. I am wearing my trusty Boden swimsuit once again and feeling relaxed.
After a brief swim, my husband suggested we go in the sauna. "Will people be naked in there? Surely you don't have to be naked. There are loads of British tourists staying in this hotel? I enquired. In my mind, I know it is traditional to be naked in the sauna. I have a German friend who tried to lure me into the naked sauna on a few occasions when we travelled to Frankfurt; but I just couldn't do it.
Unlike my carefree continental friend, we Brits seem to have a ridiculously awkward relationship with public nudity. I wouldn't say I was overly shy and everybody's got bits and bobs. We are all the same.
We made our way to the sauna area through a glass door and it was a lovely, dark tiled, softly lit area. As soon as I walked in, a man literally just dropped his robe in front of me and said "Hello" and his todger waved back at me. Oh lord. Somebody help me. Perhaps, this is not all it seems. I need to get a grip of this situation. Maybe there is a nice area just for the women. I could manage that. What I can't manage is lying naked with a lot of sixty-year-old men with their bellies hanging over their bits. Everyone in there was naked. Everyone apart from me…and my husband. I was just trying to get some perspective on this awkward situation when it became more awkward. By the time I had turned around, my husband had already removed his swim shorts and he was going in. Now he is naked too. Oh come on. Now I am alone – clothed.
I might have been tempted to go in with a well positioned towel but even that was 'no go' here. I just wasn't brave enough. I told my husband that I will meet him by the pool when he has finished 'hanging out' (excuse the pun!) with his continental mates.
Am I just too prude? I have no issue being naked around my friends, going topless on holiday if I fancy it, but this was just another level. It would seem I am not the only one who has an issue with naked saunas. In fact, according to a report by yougov.co.uk, us Brits spend very little time naked. Only 22% say they often walk around the house naked when no one else is in; fewer than one in three (29%) sleep naked in normal temperatures; and three in four (73%) have never gone skinny dipping.
When we got back to the room, my husband was saying how enjoyable his naked sauna was. He agreed that, yes, arguably it was just full of old men and just a couple of more mature women and he could understand why I didn't brave it. I mean, lets be honest, if the sauna was full of hot twenty-five-year-old men, maybe I would be tempted?
My husband said to me not to worry about it and that none of those people would have seen me again anyway. To which I corrected him "Errrmmm, yes, I'll see them again at dinner in about two hours". "oh yes" he said. "you are probably right".
Ok, so hands up Guilty Mother. I am, English. I am prude and I am proud.