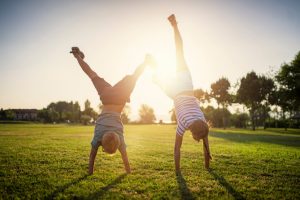 Most of us look forward to a holiday. I mean, what's not to like? An opportunity to step away from our everyday lives and reconnect with the people that we love. A time to relax, recharge and ultimately, enjoy ourselves.
And wherever you decide to travel to, I believe the importance of family time together outside of the home cannot be undervalued. In fact, holiday experiences shared together become a cherished memory for the child and can help educate them the wonder of travel.
Research from The Family Holiday Association found how a simple break can not only help build families' relationships with each other but also improve children's learning and behaviour in school.
Last December, we made a decision to go skiing for the Christmas break. It is the only time of the year when, really, work tends to actually 'stop' for both myself and my husband who both work full time. We have two children aged seven and five respectively. Some people thought we must be mad to go abroad for Christmas.
And it seems we are not alone. Around 3.5 million people will head abroad for the Christmas and New Year holiday to take a winter sunshine break or skiing holiday says travel industry body, ABTA. The busiest day at UK airports will be Saturday 22 December, closely followed by Sunday 31 December. BAA estimates that around 2.7 million people will depart from their seven UK airports over the Christmas and New Year period.
If you have always loved to ski, and now have a young family, you may be apprehensive at the idea of taking your toddlers or young children to the mountains for the first time. But fear not, there are plenty of great child friendly hotels and chalets out there just waiting to take you in.
Although, we know that skiing isn't a low cost holiday but it is one holiday in particular, when everyone is a certain age, you can all ski together. There are not many sports I can think of where you can do something altogether at the same time, for the majority of the day.
And secondly, skiing can teach children some really vital life skills. Independence and perseverance. My seven-year-old daughter is amazing but if she can't do something right first time, she sometimes won't try again. The ethos I try to instil in her it to keep trying and if you can't do it perfectly – that's OK. I want her to understand that being perfect at something isn't necessarily a good thing. These are all important life skills she is learning right now and I would imagine learning to ski is a pretty good challenge to overcome. I would just like to add that on the last day of our trip, she was confidently skiing down unaided and I am ashamed to say, even quicker than me.
Children can learn to listen carefully and follow instructions and there's often an award achievement badge waiting for them at the end of the week. And as I reflect on our ski trip, it makes me realise that skiing is not an easy sport to master but if you put in the effort, you'll get the reward. A great motto for life itself.
If it's sun over snow you are seeking, then I recommend heading to the Balearic Islands in the Mediterranean. This summer, we will be heading off to one of our favourite sunshine destinations, Menorca. A truly perfect Island for families. The warm and gentle waters are perfect for the kids, it is only a 2.5 hour flight from the UK and there is plenty of child friendly accommodation available. The holiday resorts are dotted around the 200km shoreline. The largest north coast resort is Arenal d'en Castell, with several large hotels around a perfect shell-shaped bay, while neighbouring Son Parc has the island's only golf course. Cala Galdana is also a good option. Backed by cliffs, it is simply a stunning setting.
Younger children will also enjoy the gentle water slide there! I would personally recommend staying near Binibeca beach, one of the most beautiful, rustic family friendly beaches on the Island. But before you travel, I suggest you fly early morning while the kids are still abit sleepy. Before you know it, you'll be in Menorca, lounging on the beach just after lunchtime.
If you worry about the stress of flying with young children, check out my top tips for easier travel in my blog post 'Flying with kids': https://www.guiltymother.co.uk/single-post/2017/05/05/Top-Tips-for-Flying-with-Kids
If you like the sound of Menorca, or somewhere sunny for your next holiday, jump onto www.alpharooms.com as the prices are low and that bit extra goes a long way in places like the Mediterranean.