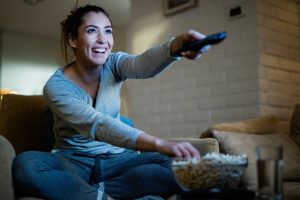 If the world feels like a cold and unfamiliar place right now, it's probably because Love Island is over. Although, if you are like me, I felt like the only person on the planet who didn't watch Love Island. Yep. That's me.
So Guilty Mother has a confession: I don't like reality TV. More recently, I have felt as if I have been stuck in a bubble of conversations such as "what did you do last night?" (Answer: watched Love Island Final, followed by long discussion about what happened in the previous episode), before someone shouts, "don't tell me I haven't caught up yet" and runs away with their hands over their ears.
So, instead of watching beautiful strangers fumble under duvet covers, I must find pleasure in watching something else. In fairness, I don't really watch too much TV. I'm normally too preoccupied writing random posts like this. When it comes to TV, you realise you've reached a certain stage in your life when your TV enjoyment revolves around 3 things. Countryfile, Gardeners World and the BBC News. My husband keeps putting Antiques Roadshow on, but I've warned him that it's a step too far. I'm just not ready to make that commitment…yet.
So, on occasions when we are not watching one of the above programmes, here are some binge options for your Saturday nights on the sofa or even better – on your own.
Big Little Lies
Soooooo good. The lies. So big. So little!
HBO's Big Little Lies has come and gone but you can download it and watch it again. A subversive, darkly comic seven-part series, Big Little Lies is the story of best friends and stay-at home mums (Reese Witherspoon and Nicole Kidman) who live ostensibly idyllic lives in their affluent beachside community.
When they take a newly arrived single mum (Shailene Woodley) under their wing, a chain of events unfolds that starts at the school gates and ends in murder. With a stellar supporting cast including Alexander Skarsgard, Zoe Kratvitz, Laura Dern and Adam Scott, Big Little Lies is set to prove that the perfect life is a wonderful lie.
Watch it now. I mean, right now.
2. The Affair
Showtime's new drama, "The Affair," is addictive, just like the steamy chemistry showed between Dominic West and Ruth Wilson. The Affair demands us to be the jury, weighing the lies of a pair of lovers as they tell the different sides to their story. But who are we supposed to trust – and how will we reach a final judgement?
The drama boasts an impressive cast, also starring Joshua Jackson , who plays a very cool, Cole Lockhart. Watching Joshua Jackson meant I was partly reliving my Dawsons Creek addiction when he played Pacey Witter. Dreamy. Anyway, back to the story line.
At times, later in the series, The Affair gets a touch far-fetched for me but there are some great twists in the story I wasn't expecting so well worth the watch!
At least you'll never want to have an affair after watching this.
3. True Detective (Series One)
HBO did it again. Another thrilling show to take over our lives, daily conversations and Facebook posts. True Detective follows two incompatible detectives, played by Woody Harrelson and Matthew McConaughey, as they investigate a ritualistic murder back in 1995. The combination of these two create outstanding lead performances.
The detectives tell the story in present day as they are interviewed about the case. The detectives interviewing them focus on different inconsistencies they find in their retelling of what happened back then. Although the story is episodic, it feels more like a movie as it progresses. The root of the series lies in discovering what went wrong along the way, and what led to the demise of these characters' seemingly perfect lives, especially Rust's.
If you love a good murder mystery, this really is a must see. Hold on to your Louisiana hats people.
Saturday nights on the sofa just got very interesting…
4. The Fall
The psychological thriller examines the lives of two hunters — one is a serial killer who preys on victims in and around Belfast, Northern Ireland, and the other is a female detective drafted from the London Metropolitan Police to catch him.
The Fall is an exercise in unexpectedness. That it's also one of the best things to have appeared on the BBC in years is almost by the by: this, it booms in its enormous, barrel-lunged Irish brogue, is how to make a relentlessly original, consistently gripping, five-part psychological thriller
Created by Prime Suspect 2 writer Allan Cubitt, Jamie Dornan stars alongside Gillian Anderson in The Fall, BBC2's most watched drama in over a decade, back for series three this week.
Three reasons to watch The Fall. Gillian Anderson has a great collection of silk shirts. Noted. Secondly, it has Jamie Dordan in it. And thirdly, fantastic acting from this duo. Do you need any more reasons?
5. The Killing
If you're a fan of the traditional 'whodunnit' format, The Killing will have you guessing at very turn. Just when you think you have all of the answers, you will come across another twist. I was on the edge of my sofa for most of this series and did not want it to end!
The Killing is an American crime drama television series that premiered on April 3, 2011, on AMC, based on the Danish television series Forbrydelsen (The Crime). Set in Seattle, Washington, the series follows the murder of a young girl, by homicide detectives Sarah Linden (Mireille Enos) and Stephen Holder (Joel Kinnaman).
So, after all that good stuff, I would like to point out that, thankfully, Love Island has come to an end. I have no idea how someone wins, what they win or if it just simply 'ends' or whether they just win a life supply of condoms.
But what I do know, it that at least we won't see to see any more men in super skinny white jeans.
On hang on, X Factor starts again later this month.