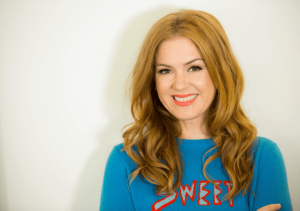 It was my pleasure to be able to interview such a talented actress, and now bestselling author, Isla Fisher. In our interview, we discussed motherhood (Isla is a busy mum to three children), what inspires her books and and how the fictional character of "Marge" came to life.
Isla Fisher began acting as a child and has worked in television and film for the past 25 years. Many will remember Isla Fisher from the Australian soap 'Home and Away', playing Shannon Reed, but years on from that, Isla Fisher has starred in many films including, Baz Luhrmann's 2013 version of The Great Gatsby as well as Vince Vaughn's, hilarious crazed lover in Wedding Crashers to name but a few. Wedding Crashers is still one of my favourite comedy films!
I asked Isla Fisher about her trilogy of children's novels and she talked of how sometimes the best bedtime stories can be inspired by our own children. Fisher's comic tales are of an anarchic babysitter who causes mayhem. Perfect for reading aloud and also appeal to competent readers ready to embark on solo reading and Marge's crazy tales of pink flamingos and being sawn in half will entertain anyone who enjoys a giggle!
What inspired you to start writing the series of books?
It was my own childhood experiences with reading that inspired me to write the Marge series. Stories were a fun part of my childhood, we moved around a lot as a kid (I was born in Oman to Scottish parents and moved to Australia when I was 6), so I hid in books … I also felt that there weren't that many funny books for emerging or reluctant young readers. Humour is an easy way to engage kids. I felt like there was a missed opportunity during this transitional phase of reading! There are so many brilliant writers like Francesca Simon and Roald Dahl for kids who are a bit older but nothing like this for the 5-8 age range!
Where did the idea of Marge come from?
If two of my best friends had a love child, it would be Marge. One of them is the eternal Peter Pan who is in total denial about reality, and the other tells magical, amazing stories. The stories are a bit like The Cat in the Hat meets My Naughty Little Sister, which are books I love to read with young children. I find kids are used to other kids misbehaving, but when grown-ups do it they find it hilarious.
As a busy mother and actress, what helped you to focus on her creative writing?
I wish I had the secret to balancing it all as a mum, but I don't have a clue. Acting is difficult with a young family. I don't want to drag everyone around the world at a whim which limits my role options and I don't want to be gone for huge chunks of time. Writing fits neatly around everything. I can write in the car pool line, in bed when everyone is asleep, on a playdate, wherever I can bring my computer (or my phone which has a Dictaphone setting) I can write.
What do you enjoy the most about writing?
The complete creative control. With acting you only play your part but when I write I get to inhabit the emotional landscape of all the characters and create their world!
What's the underlying message from Marge in Charge?
'Don't worry about being perfect or you'll miss out on the fun!' – that's the message from Marge in Charge and I try to keep it in mind myself when I am juggling life.
If you had to pick one thing only would it be a good film or a good book?
Good book. I love to escape into my imagination
What was your favourite book growing up and why?
I loved Winnie the Pooh. He is just adorable. When I read Pooh's lines I still laugh, no matter how many times I have heard them. He's a loveable idiot which is a staple of much good comic fiction. I also loved Jane Austen and any horse stories. I was horse mad as a child so any tale involving a pony was an instant favourite.
In summary, this delightful collection of three short stories from Isla Fisher is sure to be a hit with the children. The stories are warm, funny and mischievous! I loved the underlying message from Marge on how perhaps, we should all embrace our imperfections. Definitely a good motto in life and in motherhood!
Marge and the Great Train Rescue is available now from all good book stores and online.