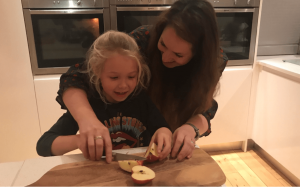 We know that families love food and that means that we spend a lot of time in the kitchen preparing what we want to eat every day. Some of us find cooking and prepping stressful but others find it unusually therapeutic after a long day. I know there are tons of items and gadgets you can buy for the kitchen, but to prepare great meals, we need great tools.
It hadn't really occurred to me how long ago we bought the last set of kitchen knives. In fact, we probably bought them when we moved in together in 2003! Buying new knives just wasn't something I would instantly think about, unless the handle broke and I was forced to buy a replacement.
When www.mychefknives.co.uk got in touch and asked if I would like to have a set of Sabatier knives to try and give some honest feedback, I said yes! Mostly because walking into a kitchen shop and walking out with a new set of knives is just not something I have done. I was genuinely excited when the set arrived, and Luis at My Chef Knives called me personally to ask if the set had arrived safely, which they had.
Later that evening I thought I would compare my old knives against the new ones, only to find that I was already using the same brand, but mine were just really old. The new knives suddenly made chopping and preparing our dinner so much easier. It also made me realise how blunt our previous knives had become! So, with our new quality, sharp kitchen kit, I could officially chop like a pro (Mary Berry eat your heart out!).
With Christmas around the corner, I would have been really pleased if someone had bought us a set of knives like this. Mainly because it's a gift people just don't buy themselves and it is likely to get a lot more use than the bread maker sitting in the back of the cupboard!
However, there is an old wives' tale that says it is bad luck to give knives. So when you give knives…you have to attach a penny! This works like a "payment" for the knife, thereby preserving the friendship (and their fingers)!
So, if you are shopping for a new knife or knife set, logon and browse the selections available on www.mychefknives.co.uk to find what you need. They can help you with some simple rules when making your purchase, such as finding a knife that's durability, doesn't need to be sharpened constantly and feels good in your hand. This lovely Sabatier set from My Chef Knives comes in a sleek black bag and has everything you need for a modern kitchen. I would highly recommend this set, as a Sabatier customer for over a decade.
In summary, we all know that if you have the right knives, then you'll be able to prepare food well, and with well-prepared food…makes for a happy household.
This could be the gift you hadn't thought of, so surprise someone this year with something different…just don't forget the penny!