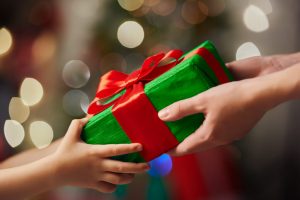 We are all very aware that we have too many 'things'. Christmas is almost upon us and the panic buying has commenced (well, mine has anyway)! But for some parents, this can mean a nightmare come Christmas Day when their kids get piles of stuff that they don't really need (nor have room for) from well-meaning family members and friends.
Many of us take pride in finding thoughtful gifts for loved ones, and I can spend hours online searching for that ideal gift. I feel a little bit smug when I find something I know they will love. But, when it comes to gifts, do we think they should be just for the children? Has the world gone a bit overboard with the gift giving? For many parents, the gift exchange between friends and family members has become just too much and I now need an excel spreadsheet to keep up to speed which what I am buying and for whom. Anyone else?
And what's the view on re-gifting? The research by parcel comparison website, Parcel2Go, discovered one in five people would pass on presents this Christmas if they weren't a fan of them. People aged 25-34 are the most likely to re-gift presents, with 85% admitting to doing so. Expired chocolates, books we didn't want; come on…we've all been there.
In some respects, buying Christmas presents has never been easier, so I shouldn't really complain. A thumbprint is normally all I need on my smartphone to buy things and 'abracadabra'; they just turn up the next day at my office. But how many gifts are too much?
High street magazines make it so easy for children to circle things they want or like, and up goes the list up the chimney in a puff of smoke. I remind the children that just because they have put it on their list, they should not just assume they will definitely get it.
This year, my friend gave me an idea which I would like to be my format for my children's Christmas gifts moving forward. I think it's a revolution and since she's mentioned it, I just had to write about it. The children just need to write down four gift ideas, which consist of:-
Something they want
Something they need
Something to wear
Something fun
Alternative Gifts for Kids
If family members are struggling for gift ideas, they may well ask you what to get the children for Christmas. This can often leave us struggling to find an answer when put on the spot. We often reply with just telling them that your child has plenty of toys and that they will like anything they get. I don't want to tell them that I had just spent the last week clearing out the play room, taking things to the charity shop. So if someone asks you about presents, why not suggest an alternative such as tickets to go see Christmas Panto, The Nutcracker together, or perhaps a trip to a museum. This way they're getting memories instead of "things."
Whatever your views on Christmas gifts, it's nice to know that research shows that one third of the public are simply grateful for whatever they receive. It really shouldn't matter if you spend five pounds or fifty pounds.
Whatever gifts you give, just let someone you love or care about know that you are thinking of them at Christmas. Sometimes just a hug and time together is enough.