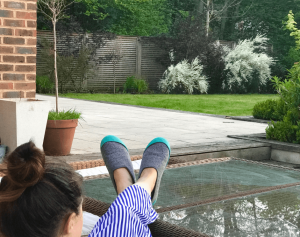 Now, I know what you're thinking. What the heck is Guilty Mother doing blogging about slippers when it's twenty degrees outside! Well, yes, you would have a good point…but these are no ordinary slippers. We need to talk about Mahabis. If you haven't heard about them then I can only imagine you must have been sleeping in a dark room somewhere for the last twelve months.
I was quite comfortable wandering about the house in my old slippers (remember when it was freezing…in April) when my husband proclaimed he had seen some slippers on the TV that he really wanted. That is something I have never heard him say before. Crikey…I thought to myself…they must be good. I mentioned it to my mother. "Oh yes" she said, "I really want those slippers too". And then – it happens. Every time you go on Google for the next two weeks – they appear as a sponsored ad. How did they know I was thinking about them?
As women, we do love our shoes, don't we? Latest research shows we own an average of 24 pairs of shoes, trainers, boots and slippers. When I was younger I never thought that slippers were cool. I refused to wear them. They seemed to be something only old people would wear. But now I say, scrap that, give me all the slippers! Cosy feet are the way forward. I dread to think about the years I have missed of having warm feet. What was I thinking.
But now, I have finally tried the slipper of dreams and I love it. Mahabis have exceeded my expectations. Mahabis have designed a slipper that is actually cool and practical. One that could go from indoors to outdoors easily and molds to your foot without suffocating it. The result is a happy mix between European craftsmanship and simplistic, utilitarian Scandinavian design.
We opted for the wool classic, which is the style that has made them one of the fastest-growing footwear brands of all time. However, given the fact that summer is on our doorstep, you may like to look at the summer version. A sculpted, breathable mesh upper to keep your feet protected without restricting airflow; a soft lining; and their signature collapsible heel. Once again, the perfect slipper for blending life both inside and outside. My hubby loves them too (as shown above. N.B – these are not my hairy legs!).
What we love the most is their key feature, the Mahabis' detachable soles. With a snap, you can go from indoor to outdoor while keeping the integrity of your floors and your pricey slippers intact. Simply attach the rubber soles with the snap-on in the back and head out. If you want to take out the trash, grab the post, bring the washing in…you can do so in one click.
The cushion-fold heels are designed to do two things: fold so that the heel can be worn up or down, and provide cushioning and comfort through light heel support. Basically, wear them like a mule, or have something flexible and light hold your heel like a comfortable hug.
I never thought I would be so excited about slippers. I can't wait to come in the front door from work and put them on. I love the variety of colours for the sole, which adds a personal touch the slipper. My husband has yellow and I opted for light blue.
So, this is Guilty Mother letting you know that slippers have become officially cool. There's 25% off on their website for a limited time only, so if you are thinking if getting some, I would recommend you do it now. I can't recommend them enough. They make a perfect gift for yourself or for the person who has everything.
Find out more and buy online at https://mahabis.com/collections/all-products