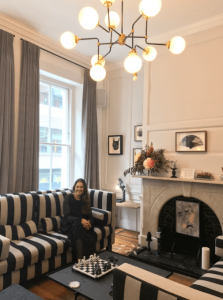 Allbright – This is London's brand new women-only private members' club which is billed as the first of its kind in the UK. The club – which already has hundreds of members, including actors Naomie Harris and Ruth Wilson and businesswoman Martha Lane Fox – has been set up by perennial high achievers Anna Jones, former UK chief of Hearst Magazines, and Debbie Wosskow, founder and CEO of home-exchange service Love Home Swap. The club, which opened on International Women's Day, been designed with women in mind.
I wasn't sure what to expect when I stepped into the building last week, but I was greeted with a warm welcome as the smell of banana bread caught my attention. As well as the usual meeting rooms, cafe, and bar – all of which you might expect to find in another members' club – The AllBright has a wellness studio, which will host fitness classes, and a powder room which will offer express beauty treatments. To be honest, these perks are perfect for me, allowing me to shower and change before heading for a night out. Normally, I would have to find a nearby hotel which isn't always as accommodating when in a hurry.
I get the impression from both Jones and Wosskow, only from what I have heard in the news articles that they wanted to create a community for women to come together in the most collaborative way. Some may say this is ambitious, but it's easy to see how quickly you can connect with like-minded businesswomen in this relaxed environment. Within two hours of being in the members club, I had already switched business cards with three women, all of which invited me to their next event and asked if I could join one of their panel talks later in the year. This is not something I think would have happened in my years as a member of Searcys at The Gherkin.
Jones says "We're thinking about how women can come together, how we can celebrate what we do and what we stand for and how we can help grow our networks." I love how Jones goes on explain that the Allbright club is about focused around furthering female careers, starting female-led businesses, and celebrating successful women, which sounds great to me.
As a new member to The AllBright, it's easy for others to get the impression that men are not welcome to the club, which is wrong. Men are very welcome here. It is just the case that they cannot be members. In this respect, the club differs from The Wing, a similar women-only venture in New York, which forbids men. Jones says The AllBright is designed to be useful for working women.
I've always been a huge advocate for women in business. As an entrepreneur myself, it is something I am fiercely passionate about. According to an article in The Independent last year, the rate of entrepreneurialism in the UK has risen far faster among women than men in the past decade. In fact, the number of women that went into business rose by 45 per cent over the last decade, compared to just 27 per cent among men. Within the UK, women in the South East are the most likely to start their own business, with 7 per cent describing themselves as early-stage entrepreneurs.
With more women taking the lead in running their own organisation, it makes sense for us to have a calming space to work and get those creative juices flowing. Inside the club, the interior is simply stunning. Spread across five floors, each one offering something different – a bar, a meeting room, a cafe. The interiors have been designed by women and the walls are alive with interesting painting and objects. I feel so settled here. If you are looking for somewhere to work, collaborate and make connections with other like-minded, professional women, then I believe this is the place to be.
I'll just have one more slice of banana loaf before I go…
For more information, visit https://www.allbrightcollective.com
Note: All content and opinions are my own. I wanted to write about this membership club as I think it is a beautiful space for women to connect and collaborate.