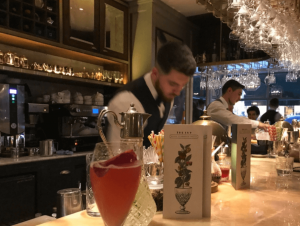 There was real buzz around Tunbridge Wells last November, when The Ivy Royal Tunbridge Wells joined our affluent dining scene. This was big news for the little town. Reserving a table seemed almost impossible as it had been booked out for months in advance. After a little patience on my part, we managed to get a table for six a few weeks ago for my birthday. It didn't disappoint. The interior décor was simply stunning which is probably what would make nearby residents flock for a sneaky peak.
Not only does The Ivy look beautiful it offers all-day food and drink in a stylish, buzzing setting. The colour and art-deco styling hits you when you walk in. After a welcome and a smile from brasserie bar team, the buzz of happy chatter surrounds us as people make themselves at home.
At first glance the tables look too close together but in fact are perfectly spaced for private conversations. The menu genuinely is an all-encompassing mix of British classics served from early until quite late, including breakfast, elevenses, weekend brunch, lunch, afternoon tea, light snacks, dinner and cocktails.
The menu is very appealing and everything looks delicious. Whilst I was tempted by the celebrated Ivy shepherd's pie ("even better than your mum's", we're told), I couldn't resist going for a fillet steak, zucchini fritti (to share) and a side of creamed spinach, toasted pine nuts and grated parmesan. All washed down very nicely with a glass of Malbec. I had pretty much died and gone to heaven.
As the ever-popular Jazz on the Pantiles starts up again, The Ivy Royal Tunbridge Wells has created two bespoke cocktails for guests to enjoy this summer alongside the brasserie's set menu offering (available Monday to Friday, 11:30am to 6:30pm).
The cocktails have been created by the brasserie's bar team and include 'The Big Easy' (£9.95), featuring Courvoisier V.S.O.P., homemade strawberry syrup and lemon juice, topped with Peychaud's bitters, and 'The Strange Fruit' (£7.75), a tantalising concoction of Wyborowa vodka, Chambord, passion fruit purée and a dash of cranberry juice. Both of these fresh cocktails ensure guests will be left feeling totally refreshed on a summer's evening.
Both cocktails can be enjoyed alongside an array of modern British classics on the menu, including seasonal risotto with peas, asparagus, goat's cheese, rocket and a baby shoot salad, and a yoghurt sorbet with strawberry sauce and shortbread, offering a delicious accompaniment for guests.
Only a few minutes' walk from the idyllic and iconic Pantiles Georgian colonnade, The Ivy Royal Tunbridge Wells offers sophisticated and friendly all-day dining to local residents and visitors alike, providing the ideal location for those looking to diner prior to the fun evening of Jazz on the Pantiles this summer.
Jazz on the Pantiles is a hugely popular event that usually runs from May to September each year. Come to The Pantiles on Saturday 7th July 2018 and Sunday 8th July 2018, 7.30pm to 10pm, playing from the bandstand.
For more information, visit https://theivytunbridgewells.com/