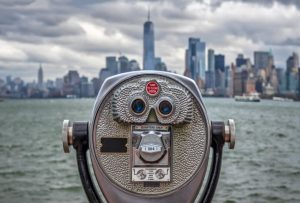 From Wall Street's skyscrapers to the neon of Times Square to Central Park's leafy paths, New York City pulses with an irrepressible energy. New York may be ever-changing, but when it comes to the unmissable cultural experience, the classics will always win our hearts.
We spent four nights in New York City and I wanted to share with you some of the things we saw and did during out stay! We didn't get the chance to see everything, so that's always a great reason to come back.
Here we go…
1. Brooklyn Bridge
When the Brooklyn Bridge was constructed in 1883—extending 1,595 feet across the East River, connecting lower Manhattan to Brooklyn Heights—it was the longest suspension bridge in the world. Now, it's a historic staple in the New York City skyline, transporting commuter car traffic underneath and touristic foot traffic above. Standing beneath one of the twin granite Manhattan Towers, all arches and rectangles with city skyscrapers rising in the distance, will at once inspire a sense of grandiosity and slightness.
2. Walk the High Line
The High Line is a perfect example of what New York City does best: cleverly rehabs old spaces into exactly where you want them to be. When a 1.45-mile-long abandoned freight rail on Manhattan's West End was transformed into an elevated, mixed-use public park in 2009, New Yorkers came running.
Towering 30 feet above buzzing 11th Avenue, the High Line is a masterful feat of landscape architecture that melds walkways and benches with grass, perennials and trees in perfect harmony. It's so relaxing with great views of the bustling streets below.
Walking the High Line was one of our favourite NYC experiences.
3. Stroll around Central Park
Step off the crowded sidewalks of 59th Street into Central Park and you'll hardly realize what lies before you: 693 acres of man-made gardens, meadows, forests, and rolling hillsides. If you ambled down every one of Central Park's pathways, you would walk 58 miles.
Along the way, you pass fountains, monuments, sculptures, bridges, and arches. Plus 21 playgrounds, a winter ice-skating rink, a zoo, and even a castle. But you'd hardly notice the four major crosstown thoroughfares, which cleverly disappear into foliage-covered tunnels.
4. 9/11 Memorial and Museum
With a heavy heart, everyone who comes to NYC should visit the 9/11 Memorial and Museum at least once. The architecture here took my breath away here.
As you enter the area from the streets —the foundation of the former Twin Towers—and are placed in a meditative mindset, forced to recall where you were on that fateful day. It is a breathtaking sight. You just have to stand there and take a few moments to reflect on what happened here. Everyone is peaceful and silent here. I loved the colourful walls and amazing architecture that surrounded this area. So much vibrant colour amongst so much sadness. I positive, colourful way to remember all the people who were here on 9/11.
The museum itself is a masterful balance: It's grand in scale, contemplative in its construction, and personal in its execution. It pays homage to the enormity of the loss, both physical and spiritual.
We didn't go in the museum on this trip as the queue was incredibly long, but we will come back again.
5. Statue of Liberty
Every day, some 70,000 people ride the free ferry to Staten Island, one of the city's outer boroughs, and you should be one of them. Without paying a cent, you get phenomenal views of the Lower Manhattan skyline, the Statue of Liberty, and Ellis Island during the 25-minute boat ride across New York Harbour.
If you are not too worried about visiting Liberty Island but just want to the see the fine lady herself, the free (yes, free) Staten Island ferry gives you great views. As the ferry ride is reasonably quick there and back, if gives you more time to see other things during your trip.
6. Wander around the Rockefeller Center
There's plenty to see and do at this Art Deco masterpiece of a building, including a sunken roller/ice skate rink and high-end shops.
Top of the Rock (an observation platform 70 storeys from the ground on the top of the 1933 GE building), and tours of Rockefeller Center which depart every two hours. Wandering through the complex is free but going to the top will incur a charge.
7. Visit Grand Central Terminal
Grand Central is not only the world's largest (76 acres) and the nation's busiest railway station—nearly 700,000 commuters and subway riders use it daily—but also one of the world's most magnificent, majestic public spaces.
Past the glimmering chandeliers of the waiting room is the jaw-dropping main concourse, 200 feet long, 120 feet wide, and 120 feet (roughly 12 stories) high, modelled after an ancient Roman public bath. Overhead, a twinkling map of the constellations covers the robin's egg–blue ceiling. To admire it all with some sense of peace, visit mid morning after the rush area.
It's a fascinating place full of wonder and history. A must-see!
8. Times Square
Hands down, Times Square is the most frenetic part of New York City. It's our version of London's Piccadilly Circus. It's an explosion of flashing lights and shoulder-to-shoulder crowds so you won't want to stay here too long.
Just wander through, take a few photographs and move on!
9. American Museum of Natural History

The largest natural history museum in the world is also one of the most impressive sights in New York. Four city blocks make up the American Museum of Natural History's 45 exhibition halls, which hold more than 30 million artifacts from the land, sea, and outer space.
10. See Carrie Bradshaw's House
Sex and the City fans come from all over the world to see where Carrie Bradshaw lived. Some say that Carrie Bradshaw's apartment might as well be the fifth main character, that is just how well we know Carrie's small but lovable apartment. We strolled from Mid-town to Greenwich Village, which is around 1.6 miles but a lovely walk. The townhouses around Greenwich Village are exatly how you would expect to see them in the movies and TV shows!
Carrie's TV home on 64 Perry Street is known as one of Manhattan's hottest-listed properties. In 2012, the property was sold for $9.85 million and although you can't sit on the famous steps as the owner would rather you don't, you can still wander the street an enjoy the fond memories of one of our favourite shows! I took photo on the steps a few doors down…I couldn't resist!
11. Eat in Chelsea Market
We loved Chelsea Market. A very cool vibe, much like London's Borough Market with a variety of restaurants and shops. Chelsea Market is literally an Urban Food Court with around 40 small businesses. You can buy food to go, visit the stores, and it's one of the best spots in the city to eat. You'll find almost everything for lunch, Maine's lobsters, Italians raviolis, cupcakes, pastrami…
The Lobster Place is a big hit here and often busy. If you like lobster rolls this is the place to get one. The $20 lobster box is a great buy. The roll is buttered & toasted just right and filled with lots of pieces of lobster. Besides lobsters there is an enormous variety of fresh fish. It's always crowded so try not to go at peak times. The Chelsea Market is a fun place with a good selection of all kinds of food.
And there is an Anthropologie store in Chelsea Market. Need I say more?
12. Eat and Drink at Top of the Rock
Top of the Rock Observation Deck is one of New York City's biggest attractions. Located in the heart of Rockefeller Center, it not only has the most breath-taking views in the city, but is also surrounded by the best shopping, dining, and entertainment in Midtown.
Instead of joining the ground floor queue for Top of the Rock, head to the other side of the Rockefeller Centre foyer and up to the mezzanine to reach the lift to access SixtyFive (follow the signs to the Rainbow Room). This isn't just your average New York rooftop bar, it's the highest outdoor terrace in New York City.
Bar SixtyFive opens at 5pm. Make sure you are smartly dressed. No trainers allowed. Oh, and try The Silver Slipper – a pretty, lilac cocktail. Although be warned…it's a strong one! Reserve a table in advance so you won't be disappointed as gets very busy.
13. Stay at Royalton Park Avenue
From Central Park South down to the Empire State Building, Midtown is home to the energy of Times Square, the theatres of Broadway, and a range of hotels, which is why we chose to hotel here. Midtown is a great base and you are close to many highlights including Top of the Rock and the glorious Museum of Modern Art (MoMA).
Royalton Park Avenue offers 249 luxury rooms and remarkable suites, most with lofty ceilings, Juliet balconies, and five fixture bathrooms. The three-story atrium lobby showcases striking herringbone granite floors, an oversized fireplace, and dramatic aubergine chandeliers. It is a beautiful hotel with great city views, plus an outdoor rooftop pool and bar. Doesn't get better then this in Manhattan! We chose this hotel as it was modern, good value and in a fantastic location.
New York was hot and humid during our visit, so we were thrilled with the rooftop pool and bar. After shopping and sightseeing we were so glad to relax on sunloungers with a beer after a dip in the heated pool. The pool does quite very busy but if you can bag a spot, there are beautiful views as it overlooks the empire state building. Highly recommend this hotel, we would definitely stay here again.
When you can in New York: Walk. Staying in Midtown proved to be an excellent base for us to get up, get out and walk and any direction we fancied!
14. Visit Bloomingdales
This is my new favourite store in the world. Bloomingdales is America's only nationwide, full-line, upscale department store offering the latest fashions for Women, Men, Children and the Home.
A 140-year history of fashion, innovation, dynamic shopping environments, special events, and the iconic Little Brown Bag make Bloomingdales like no other store in the world. Shop the top designer names at our iconic New York flagship store. Stop by the Visitors Center on the First Floor Balcony for special offers, services and amenities.
You can find almost anything, clothes, bags, jewellery, perfumes, sunglasses, etc. The staff are so helpful and they even have delicious restaurants. All the people that work there are very friendly. If you look carefully you can find awesome discounts. If you are a tourist, don't forget to ask for the 10% international discount.
We stopped for a coffee and lunch and Forty Carrots. The freshly squeezed juices are delicious!
15. One World Observatory
See New York City at your feet with admission to the One World Observatory, a 3-story destination on top of the western hemisphere's tallest building. Ride to the 102nd floor in the Sky Pod, and watch the virtual city skyline transform across centuries of history.
Learn about the construction of the 1,776-foot-tall (540-meter) skyscraper, which has sweeping views that stretch up to 50 miles (80 kilometers) across the city. Browse the cafés and restaurants in the One World Observatory, and enjoy New York from a whole new perspective.
For more inspiration, follow @what_I_saw_in_nyc on Instagram.
This is not a sponsored post. I just thought it would be great for my followers to see what we did and what we saw. Have you been to NYC and what are your favourite, stand out experiences?