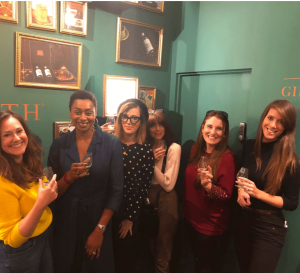 Tis the season to be jolly, and there's no better way to ensure that than with a cheeky helping of gin. This is the second time I have collaborated with Sipsmith and that is because they really are a super, lovely bunch!
I love the story of how this business was started. It all began in 2009 in a tiny workshop in Hammersmith, London. Together, two childhood friends, Fairfax and Sam, set up London's first traditional copper distillery since 1820. Their mission was simple: to bring London Dry Gin of truly uncompromising quality and character, back to the city where it first earned its name.
Every bottle of Sipsmith is hand-crafted in genuinely small batches. Every drop of every batch is lovingly laboured over by hand, by their dedicated Distillers.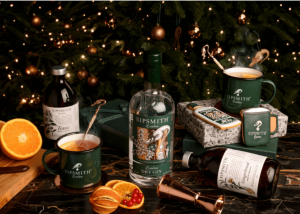 In this blog, I bring warm, festive cheer. Chiswick's Sipsmith Distillery have opened a dedicated gin shop to Central London, the first of its kind for over 200 years. Considering London's modern love for gin, a gin shop inside Piccadilly's Princes Arcade in London is what we call…perfect timing!
Traditional gin lovers will love the classic Sipsmith London Dry Gin which are available in different sized bottles from the gin shop. Some of which are perfect for filling Christmas stockings! if you fancy something different, you can get your hands on new flavours that you can't buy anywhere else, including Chocolate Orange, Gingerbread and Mince Pie Gin. Surely a match made in heaven?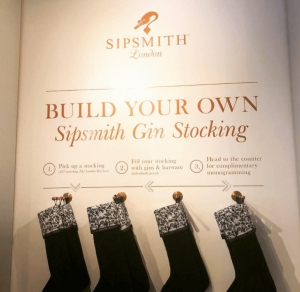 The gin shop has been beautifully created and there is a distinctive Christmas feel within. The pop up shop is packed with some fabulous gin related gift ideas. From Sipmsith branded mugs, glasses, blankets and personalised velvet christmas stockings the list goes on.
The team at the Sipsmith pop up shop are offering samples including Hot Gin & Gingerbread cocktail, so well worth the visit. Any purchases will then be lovingly wrapped in Sipsmith tissue paper. What a festive treat!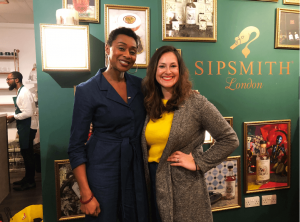 Adding a further sprinkle of magic to the Gin Shop, myself and a few other bloggers were invited along for a Cocktail Masterclass inside the pop up shop. I brought along my friend, Olympic athlete, Michelle Robinson to enjoy the festivities. We had so much fun discovering how to make the ultimate Christmas cocktails to impress your guests and pick up some top tips from our expert team.
After the masterclass, we filled our baskets with gin related goodies before heading to the Roof Garden of John Lewis on Oxford Street for some more festive cheer.
We enjoyed some drinks and food in one of the two winter hideaway cabins which can also be booked for private parties. Sipsmith then served us with drinks (more gin) and food, all available from MyPie. There is also a cute, little rooftop skating rink which needs to be booked in advance. Skyline Skating with Sipsmith will be there until 6th January 2019 so there's plenty of time to get your skates on!
From Gin stockings, gin tree decorations, and Sipsmith branded festive treats, you can get everything you need Sipsmith Gin Shop at 192 Piccadilly, W1J 9EU, open until December 24th 2018.
Wishing you all a very Merry Ginmas!