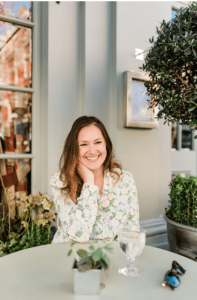 It feels like a dream come true. I don't really see myself as 'model material' but was recently asked to be a brand ambassador for Really Wild Clothing. What a compliment! A brand and clothing line I adore.
I fell in love with the brand when I met them by chance at Goodwood Revival Festival last September and we got chatting (very me!).
I purchased my first liberty silk dress (Teal Blooms) from Really Wild Clothing at the Goodwood Revival Festival after some light persuasion from my team who I was at the event with. They told me the dress matched my eyes and that I should buy it as an investment piece. I purchased it and swiftly changed into it. Once the silk dress was on, I felt like a million dollars for the rest of the afternoon. Goodness gracious, isn't it interesting how a well fitted dress can really lift your mood and your confidence?
I loved the Teal Blooms dress and it remains to be one of my all time favourite outfits in my wardrobe. Not only because of the beautiful floral print, but silk is so flattering (particularly on me, as I am curvy). These dresses are a great fit, they don't gape and silk feels heavy enough that it doesn't cling but is still breathable.
Over the last twelve months, with the help of a personal stylist, I have been trying harder to think about sustainable fashion. I have been buying more investment pieces that will last ten years rather than some regrettable impulse purchases (with buttons falling off just a month later). Resisting temptation on the high street is hard, but I am working hard to think more about what I am buying.
I want to invest more in high-quality pieces that I would love for years to come. Someone once said to me that "there's something to be said for spending your entire budget on a handful of great pieces a season, wearing them every which way, and truly making them your own."
Really Wild Clothing was created by Natalie Lake, who spotted a gap in the market for chic, well-tailored, classic garments with a modern twist. In 2002, she collaborated with the Royal Berkshire Shooting School after failing to find the kind of attire she wanted to wear. This was the year that Really Wild Clothing was founded.
Natalie's approach was to create luxury, timeless collections that has broad appeal to UK and international customers, using bespoke tweeds, high quality leather and hand crafted boots. Her passion for design reflects our glorious countryside traditions. Beautifully made and finely detailed, Really Wild have nailed classic tailoring for women who move between the city and the countryside.
Many of us spend time in the city but equally love to have country chic outfits for the weekend and Really Wild Clothing have done really well to bring versatile pieces together for both environments. Clothing which is practical, yet stylish using high quality fabrics.
I had the pleasure of meeting Natalie in person last year at the launch party of their pop-up boutique in Duke of York Square, London. We celebrated in style with a Sipsmith Gin bar (another brand I have worked with before!). It must be fate! I expressed to Natalie how impressed I have been with her business and how I am looking forward to working with them moving forward.
In 2012, the Duchess of Cambridge was photographed wearing the dark green jerkin on a visit to the 'Expanding Horizons' primary school scheme at Widehorizons Margaret McMillan House, its manufacturers the Really Wild Clothing Company were inundated with calls.
International Women's Day 2019
To celebrate International Women's Day on 8th March 2019, I received a personal invitation which I could hardly believe.
I was one of 100 women to be invited to a drinks reception at 10 Downing Street with the Prime Minister, Theresa May, to celebrate and recognise International Women's Day. Wanting to look smart and stylish for this occasion, I wore a Really Wild Clothing liberty silk dress 'Sky Cream Rose' which was perfect for Spring, complimented with a grey wool coat 'Spring Grey Marl'. Both items kindly gifted as part of my brand ambassador role.
Thank you to Really Wild Clothing for making my trip to Downing Street so special and I can't wait to see what happens next in my ambassador role!
Find out more at www.reallywildclothing.com or visit one of their Boutiques:
Really Wild Clothing, 53 Sloane Square, London
and 105 High Street, Marlow SL7 1AB
Get up to 50% on their sale items here
Photo credits: Leana Catherine Photography and official photography from 10 Downing Street.