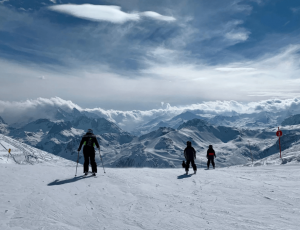 If you are considering taking your children skiing, my first advice would be to choose a ski company with lots of experience and knowledge to help you get the most from your holiday.
We have just returned from a brilliant ski week with Mark Warner Holidays. This is the first time we have travelled with Mark Warner, so we wanted to share our holiday with you and give you our top five reasons on why we felt this was a successful family break.
First things first – if you are planning a family ski holiday, it is worth considering when to go. The end of December is one of the expensive times of the year as it ties in with public and school holidays. February half term is popular and can therefore, be a busy on the pistes. My advice is to take a look at alternative options, such as the first week of January or Easter time.
Easter is a great time to consider skiing with children as December can also be very cold for the little ones during ski lessons. Easter falls late this year and while some lower ski resorts close before this, a good many, particularly in Europe, are still open for business into late April.
Working with Mark Warner Holidays, we headed to Val Claret (2300m), the highest village in Tignes to chalet-hotel L'Ecrin. We were so fortunate to have beautiful sunshine almost every day and we had one day with lots of snow! The Mark Warner staff were so excited by this as we were all in for some perfect skiing conditions. We are talking sunglasses, alfresco dining and returning back to the chalet hotel with a sun-kissed healthy glow (or some impressive google marks for some)! Oh yes!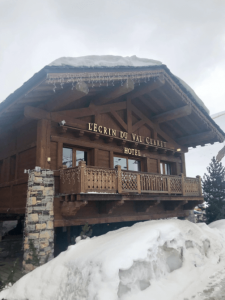 Being a newbie to Tignes, I was impressed. The ski area was vast and very family friendly. In fact, much better and easier than I had envisaged. So, without further ado, here are five reasons for choosing Mark Warner Holidays:-
1. Family Friendly Chalet-Hotel Team
We booked this holiday with friends, so as a party of nine, including four adults, four children and one toddler, it is fair to say that getting a good customer service was high on our agenda. We spend so much time preparing for this holiday, we were keen to ensure it ticked as many boxes as possible. All the team were friendly, attentive and helpful which made for a lovely, relaxed atmosphere.
All 52 bedrooms offer free WiFi, flat-screen TVs with satellite channels, hair dryers and safes. We had a family room set up which consisted of two double rooms with inter-connecting doors, which suited us really well. We had plenty of space, including four wardrobes and two bathrooms. There was no fight or wait for the bath or shower!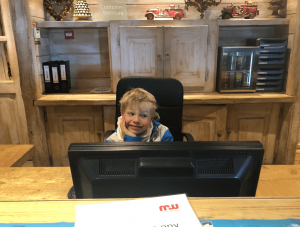 2. Great Food and Drink
During our ski trip, breakfast and dinner was included everyday except one evening. Breakfast had plenty of choice including cereals, porridge, fruit, pastries, toast, boil-your-own eggs and a selection of buffet-style cooked breakfast, which ensured everyone was well set-up for the day!
One of the children in our party is coeliac and the team were so helpful in providing gluten free meals for him every day. The head chef even came up to him and asked what his favourite meals were so he could get them prepared in advance. What a service! He was absolutely delighted to have his meals 'home from home' without the worry of any triggers or reactions. In fact, almost every restaurant we visited in Tignes did a fantastic job of catering for coeliac. We would like to give a special mention to 'le coffee' who were just excellent and we went there almost every day as we loved it so much.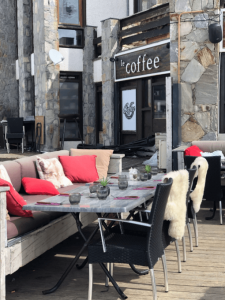 Back to the chalet-hotel and kids dinner is served at 5pm which was ideal timing. All the children were exhausted after a day's skiing, so this was a real win from Mark Warner. Kids dinner was a healthy, child-friendly meal, which something different on offer every night.
After dinner and a quick freshen up, the children can go down to the childcare in their PJ's for movie night which starts at 7:30pm (subject to pre-booking). The adults can then enjoy their dinner in peace knowing the children are watching a movie whilst snuggled under blankets with the new friends they have met that week in the chalet-hotel and their ski school. These giant bean bags were also perfect for a little nap! I might recommend to Mark Warner that they create an adult nap room too!
Adult evening meals were all freshly cooked and the choices were very good. We were all really pleased with the quality of the food from the head chef Martin and his team. Wine was included during our ski trip so we didn't spend much extra other than some afternoon beers. Even on the chalet night off we ended up staying in the chalet bar playing cards and being well looked after by the barman Ollie who kept our drinks topped up! Cheers Ollie!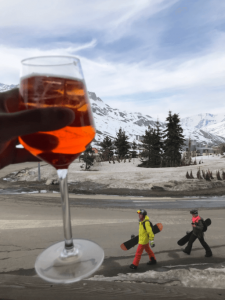 At the centre of the L'Ecrin is a cosy lounge area with a fireplace, large sofas and armchairs. We have tea, cake and soup here at 4:30pm every day whilst the older children also relax and play in the same space. Every day when we came in the bar, the team always asked if we had a good day and how the pistes were. Everyone was so welcoming.

3. Guilt Free Childcare
It is advisable to pre-book your childcare places to ensure you get the sessions you'd like. You can choose from morning or afternoon sessions (or both) and they fill up quickly. We booked for four older children (aged between 7 and 9) into evening childcare as they did their ski lessons with Evolution2 in the mornings between 9am to 12 noon when we collect them again. For children booked into the Mark Warner all day childcare, they would be collected from ski school by Mark Warner and taken back to L'Ecrin for afternoon activities.
The toddler in our party, Thomas, was in all day childcare and was very well looked after. In fact, the parents said that they could not speak more highly of the creche. It is a lovely space and the nanny Charlotte really bonded with Thomas which made all the difference. It meant that the parents could leave Thomas in the hands of someone they could really trust and go off to enjoy a morning of skiing…guilt free!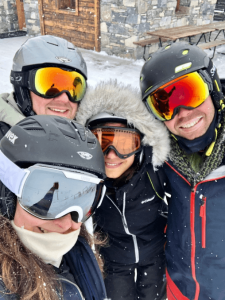 4. Great Atmosphere
Maybe it is just something about ski people, but everyone in the chalet-hotel was so friendly. Maybe it is just because every one is in the same boat. We won't deny family ski holidays often come with a few twists and turns along the way. The first day of getting the kids to ski school can feel like a military operation (switch on!) but trust me, everyone is in it together.
On the first morning whilst trying to get my daughter off to Evolution2 ski school, I managed to snap her ski googles. Whilst going back to the room to give her mine, one of the other guests stopped me in the lift and said that I could borrow her son's spare pair and just to give them back at the end of the holiday. How nice was that? I was feeling terribly guilty about snapping her googles but this wonderful fellow mother saved me!
Once at ski school, the children's confidence soured under the watchful eye of super fun instructor, Dougie! He told them that every day would be an adventure and we could see he worked hard to get the best out of each individual. They thoroughly enjoyed receiving their ski medals on the last day of lessons and they definitely earned them. That's something different to take in for 'show and tell' at school! We rewarded them with plenty of hot chocolates and cuddles. Cue fuzzy parenting feels.
5. Everything Else
We know skiing is what we all go for, but we really enjoyed the other activities on offer from Mark Warner. This included the indoor pool, which was in two sections. The first at about 34 degrees was nice and warm then you pop up into the next part which was colder to make the muscles work abit harder! The changing areas at the pool do need a bit of an improvement, so hopefully that will be done at some stage.
There was also a small gym with cross-trainer, Concept 2 rowing machine, exercise bike, "stair-climber" and some weights for working off the calories on non-skiing days.if you fancied some addition exercise! And finally, a range of Elemis treatments are on offer too.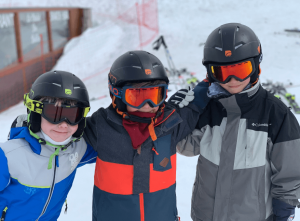 In summary, we really enjoyed our time with Mark Warner in Val Claret, Tignes. As a first time Mark Warner customer, I was always interested to see how my expectations would be shaped up and it really is the people that make this company the success it is.
Huge thanks to Lauren, Tommy, Ollie, Charlotte and Suzie who were all very attentive, warm, capable and understanding. The team are such excellent ambassadors for the company and you can tell that when they wear their Mark Warner uniform, that they do so with pride. You might think that some people will get fed up asking you if you have had a good day skiing or talking about the weather tomorrow, but quite honestly, these super men and women don't seem to!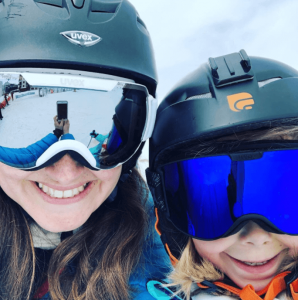 The hotel may appear a little rustic around the edges but this is all part of it's 'chalet-style' so set your expectations at the right level. L'Ecrin is clean, tidy and very family friendly so it should tick plenty of boxes. It is a great spot and considering you can get a bus to the nearest lift in just a few minutes, you really are just a few moments away from some fantastic family skiing.
The pistes here provide enough for any level to enjoy. It is also possible to ski from Val Claret to Tignes Le Lac and Val d'Isere – the lift pass covers it all. I had no idea what a superb resort Tignes was. You know what they say, happy parents = happy children. I'm sure we'll be back.
Note: We paid for our Mark Warner Holiday in Tignes but received a discount in exchange for social coverage. As always, thoughts and opinions are honest and my own.
For more information, call Mark Warner Holidays on 033 3305 7218 or https://www.markwarner.co.uk/