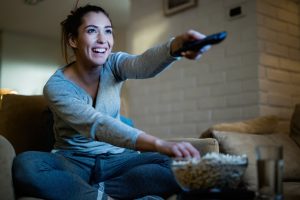 Billions of us are at home. We are busy messaging each other asking for advice on what is good on Netflix. Here's my guide to help you get the best TV on Netflix UK and find the best things to watch. Here's to spending more time watching a show and less time trying to pick one. Hope this top ten list of the best shows on Netflix right now is helpful for you: –
1. Sex Education
A must see! The second season of this raunchy teen show is the biggest highlight on Netflix in 2020 so far. Although it has a distinctly American glow, with jocks, Acapella groups and mean girls, Sex Education is set in the UK and filmed in Wales.
Asa Butterfield stars as an awkward teenager who starts giving sex counselling for money, and Gillian Anderson plays his mother in her typical graceful style. While the titular topic is used as a source of comedy, Sex Education also explores issues related to intimacy and identity issues in a smart way that will dredge up your emotions.
2. The Crown
Based on an award-winning play ("The Audience") by showrunner Peter Morgan, this lavish, Netflix-original drama chronicles the life of Queen Elizabeth II (Claire Foy) from the 1940s to modern times. The series begins with an inside look at the early reign of the queen, who ascended the throne at age 25 after the death of her father, King George VI. As the decades pass, personal intrigues, romances, and political rivalries are revealed that played a big role in events that shaped the later years of the 20th century.
The Crown—one of the top Netflix Original Series—is officially binge-worthy. Follow three decades (so far) in the life of Great Britain's Queen Elizabeth, with plenty of royal intrigue and familial conflict to keep you hooked and eagerly awaiting season four.
3. New Girl
For a good show on Netflix that will put you in a good mood with every episode, turn to this playful, upbeat comedy, which follows the titular girl as she moves in with three quirky men. Their seven seasons of shenanigans will keep you entertained for hours—a close-to-perfect way to spend a chilly weekend, if you ask us.
Each season has around 23 episodes, except the last which only has eight. That makes a total of 146 episodes over the show's seven year run. Not bad going!
4. Gilmore Girls
All seven seasons of this sweet mother-daughter series are available on Netflix, and the Netflix Original follow-up (Gilmore Girls: A Year in the Life) lives exclusively on the streaming service. With that in mind, Netflix is the best spot to soak up the witty banter, quirky supporting characters, charming hometown setting, and genuine warmth of this long-running series, which follows the lives of mother Lorelai and daughter Rory.
Television critics praised Gilmore Girls for its witty dialogue, cross-generational appeal, and effective mix of humour and drama. Dig in!
5. Stranger Things
Netflix's nostalgic sci-fi series is back for its third season. The show picks things up in 1985 with El, Mike and the gang teetering awkwardly on the precipice that separates childhood from adolescence. Meanwhile, in Hawkins, things have taken a sinister turn as the town's residents start to find themselves under the influence of a strange, supernatural force. Oh, and there's the little matter of the Russian scientists trying to pry open a hole into the Upside Down. With nostalgia, mystery, horror, and strong friendships, it's got something for everyone.
Why have you not seen this yet? Shame on you!
6. Cheer
Cheer is getting rave reviews! Cheer is an American documentary-reality television series. The series follows a competitive cheerleading team from Corsicana, Texas during a season.
The stakes on the mat are high, but for these cheerleaders, the only thing more brutal than their workouts and more exceptional than their performances are the stories of adversity and triumph behind the athletes themselves. From the team behind Last Chance U, Netflix's new documentary series "Cheer" follows the competitive cheerleaders of the 14-time National Championship winning team at Navarro College in Corsicana, TX. Over the course of six episodes join the team members as they face injuries, sacrifice, personal setbacks and triumphs, all leading up to one nail-biting and adrenaline pumping final competition at the National Championship.
7. Workin' Moms
Working Moms is a Canadian television sitcom. Kate (Catherine Reitman), Anne (Dani Kind), Frankie (Juno Rinaldi), and Jenny (Jessalyn Wanlim) are a group of friends dealing with the challenges of being working mothers.
Workin' Moms is a realistic and pretty funny portrait of how overwhelming it can be to work and also a not feel completely guilty that you're not there for your kids.
8. Friends
You can't go wrong with this '90s comedy staple about six friends navigating life, love, and careers in New York City's Greenwich Village. No further explanation needed as there are enough episodes to see you through every week!
Seriously… is there anything better?
9. The Society
Think Lord of the Flies meets Lost, mixed with all the soapiness of your favourite teen dramas like Gossip Girl or The O.C., and you've got The Society. The show is set in an affluent Connecticut town where a group of high school students returns from a foiled camping trip to find that everyone has disappeared.
Not only do they have to try to figure out what happened, but they also have to decide what kind of, well, society they want to create for themselves.
10. Grace and Frankie
For as long as they can recall, Grace and Frankie have been rivals. Their one-upmanship comes crashing to a halt, however, when they learn that their husbands have fallen in love with each other and want to get married. As everything around the ladies is coming apart, the only thing they can really rely on is each other. This Netflix original re-teams Jane Fonda and Lily Tomlin ("9 to 5") as Grace and Frankie, respectively, bringing their chemistry to the small screen.
It's a casting reunion on a grand scale, as Tomlin is reunited with her co-star from "The West Wing," Martin Sheen, who plays Grace's husband, Robert. And Fonda is back with Sam Waterston, her co-star from "The Newsroom," who plays Frankie's husband, Sol. Grab a bottle of wine and binge watch of this hilarious comedy!