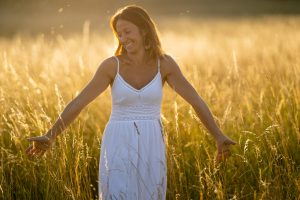 I love clothes. Just like many women who love fashion, I have plenty of them.
It is hard to believe that around 100 billion items of clothing are delivered out of garment factories around the world every year. Collectively, the world's population buys 400 per cent more clothes than we did 20 years ago. That's a lot of clothes. The scale and speed at which clothing is produced and consumed now has given us the term "fast fashion" and even me, Guilty Mother is guilty of that! I go down a rabbit hole of floral maxi dresses on Instagram and all of a sudden, another item magically drops into my online basket.
A quick purchase – a quick fix.
Whichever way you look at it, it is an interesting time for sustainable fashion. Everyone is talking about it. There is lots of advice both online and offline for encouraging us to shop more ethically. Buying less and buying better could be an important message. If you're staying home and entertaining yourself by shopping online during lockdown, then you may like to know more about brands who are really thinking hard about sustainability.
The enormous amount of water needed to grow cotton is one environmental cost of the industry. For example, the production of one cotton T-shirt requires the equivalent of about four years of drinking water for the average person. Furthermore, we should consider the polluting effects of clothes once we've finished wearing them.
I was shocked to read that the equivalent of one rubbish truck of textiles is landfilled or burned every second, while less than one per cent of clothing is recycled into new clothes, according to a 2017 report from the Ellen MacArthur Foundation, an environmental advocacy organisation set up by MacArthur, a retired English yachtswoman. An estimated €443 billion is wasted every year on clothing that is barely worn.
But, there's always progress to be made when it comes to making our fashion more sustainable. I have partnered with GANT to tell you more about what they are doing to bring change in a world with an ongoing love for new styles.
The good news is that companies, such as GANT, are leading the way in encouraging consumers to invest more in products that will last longer and be manufactured in a more sustainable way.
Since 1949, GANT has designed timeless pieces made to last, made from 89% natural materials and inspired by classic cuts that never go out of style. To take this to the next level, GANT has also published the following goals for their stride to a greener business: 2022 – GANT´s cotton will be 100% sustainably sourced
2025 – GANT will reduce its water use in manufacturing by 50%
2025 – GANT's key materials will be 100% sustainably sourced
2030 – GANT will reduce its climate footprint by 30% throughout all operations
The vision for the future of textiles will be different.
Clothes will be designed in a new, more sustainable way, worn longer and more often. With GANT, their clothes bring great opportunities both for consumers to not only enjoy their clothes but do a little for the environment in return.
"Vivienne Westwood said it best: 'Buy less, choose well, make it last. 'Choose pieces that you absolutely love and ones you know you'll keep forever.
3 Great Ways to Make Your Wardrobe More Sustainable
1. Invest in trans-seasonal clothes
Only buy items that you know are going to work for you all-year-round. Don't shell out on an entire summer wardrobe each year when you live in cold and rainy London – you won't pass the 30 wears test. Instead, spend the bulk of your money on pieces that will see you through more than one season. Jeans, T-shirts, classic dresses, timeless coats and jackets will make for a much more sustainable wardrobe.
2. Go for quality over quantity
Buying better quality, more sustainable pieces is likely to cost you more money than buying a cheap high-street product that doesn't tick the right boxes. However, it's all about changing your mindset.
Agreed, some items will cost more but you are likely to have it longer and will be buying less per season overall. Buying 10-30 high-quality items a year, rather than 60 cheaper, less eco-friendly pieces will dramatically reduce your carbon footprint.
3. Wash your clothes less
Research by the Energy Saving Trust has shown that laundering accounts for 60–80% of a garment's total environmental impact, so you can significantly reduce your impact even by washing your clothes after every few wears. Additionally, start washing your clothes at 30 degrees (this is reported to reduce energy usage by up to 40% compared to the standard 40-degree wash) and dry them naturally (it is perfect washing line weather ladies!) to further save energy.
Update your wardrobe with seasonal favourites at GANT and enjoy a selection of everything you need for warm weather days–now for a limited time only.
Paid collaboration with GANT.co.uk but all views are my own.